Green Flag Award
To be able to fly the prestigious Green Flag, our parks and open spaces are checked regularly throughout the year to ensure they're clean and well maintained, offer a welcoming place to visit, and encourage community involvement.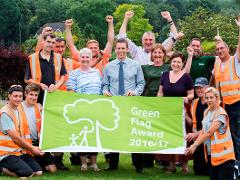 Our Green Flag parks
Guildford has ten Green Flag open spaces and parks. They are:
Allen House Grounds
Guildford Castle Grounds
Riverside Nature Reserve
Stoke Park
Sutherland Memorial Park
Guildford Crematorium
Chilworth Gunpowder Mills
Lakeside Nature Reserve
The Mount Cemetery
Stoke Cemetery
For further information, and to find more Green Flag parks and open spaces, visit the Green Flag Award website.