You are here:

Key stage 2 pupils - Victorian schoolroom
Key stage 2 pupils - Victorian schoolroom
The Victorian schoolroom workshops are suitable for Key Stage 2 pupils (Years 3 to 6).

The Victorian schoolroom
The address for the Victorian School Room is: 39½ Castle Street, Guildford GU1 3UQ.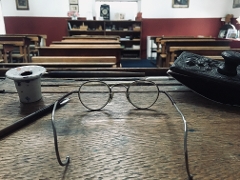 The workshop runs from 9.45am to 2pm, Monday to Friday during term-time.
Sessions are run in a specially recreated Victorian classroom facility, where children dress in Victorian costume and follow a Victorian-style role play recreation.
The workshop activities include:
Recitation
Physical drill
Object lesson/needlework
Copperplate handwriting.

At 12.30pm, the children have half an hour for lunch when they can take the Victorian toys up to the castle grounds for outdoor play.
At 1pm, they will visit the museum's Victorian galleries which include Victorian toys and items of domestic life and answer questions on a worksheet. The sessions have been designed by, and are run by, qualified teachers.
Price: £6.80 per child with a minimum charge of £170. An inset session and a Teacher's pack are included.
Please note that there is a limit on class size to a maximum of 36 pupils.
Make a booking
You can make a booking enquiry for the Victorian schoolroom by filling in the form below.
Please note: Submitting the form does not constitute a booking. You should not go ahead with any further arrangements for your trip until we have contacted you to discuss your enquiry.
Related pages
Contacts