You are here:

Guildford Crematorium
Important access and funeral service information
From 23 November to 15 December inclusive we will be moving into the new crematorium facilities. We will not be holding funeral services during this period. For more details, please see our Crematorium temporary closure page.
Access to the Gardens of Remembrance, Book of Remembrance and Flower Room will be maintained, but at various stages parking may be limited and access to the crematorium may be from the Summers Road entrance. Please call the bereavement services office on 01483 444711 as close as possible to the time of your visit.
Guildford Crematorium
While redevelopment work takes place at Guildford Crematorium, we have an interim chapel available for funeral services. The interim chapel has been designed to a very high standard and includes carpeted floors, acoustic panelling and flexible seating.
Christmas and New Year opening times
Find out when we are open over the holiday period by visiting our Christmas and New Year opening times 2019 page.
Interim chapel
The interim chapel is well heated, air conditioned and carpeted, and has appropriate and sensitive lighting. It seats in excess of 100 and features new seating and soft furnishings. For more information, see our Interim facilities during redevelopment page.
Service times are 45 minutes apart. The time in the chapel for funeral services is thirty minutes with the additional 15 minutes allowed to prepare the chapel for the following service.
If you would like more time in the chapel there is the option to book a double time slot. If you would like to come and view the chapel prior to the funeral service, please call the bereavement services office on 01483 444711 to make an appointment.
Waiting room
The crematorium has a waiting room situated next to the chapel which can comfortably seat 14 people. Toilets are not connected to the waiting room. Well presented toilet facilities are available with separate baby change and disabled facilities.
Christmas wreaths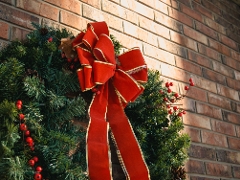 A bespoke area for Christmas wreaths is situated in our new Remembrance Court by the new Book of Remembrance Room and Flower Room.
Christmas wreaths can be placed in this area from 25 November for the duration of the Christmas period.
The memorial Christmas trees will also be located in this area.
Memorial Christmas trees
Memorial Christmas trees will be in the Remembrance Court and Book of Remembrance Room from 2 December.
Families can write a message to lost loved ones and place their message on the trees.
All Christmas tributes or memorabilia placed in the grounds will be kept until 6 January 2020. After that date, the tributes and memorabilia will be carefully removed and held for one month for your collection.
Crematorium Gardens of Remembrance
The crematorium gardens of remembrance are open during the following times:
November, December, January 9am - 4.30pm
February 9am - 5.30pm
March and October 9am - 6pm
April and September 9am - 7.30pm
May, June, July, and August 9am - 8pm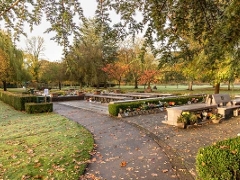 Wesley music library
We offer the Wesley music library for funeral services held at Guildford Crematorium.
The library has over 300,000 items of music, including pop songs and hymns (choral and unaccompanied), traditional, orchestral and classical pieces.
The library is free to use and CD and DVD recordings of the funeral service are available at an extra cost (see the list of
Wesley media library charges [20.83KB] ). Visual tributes which can include music and photos of your loved one to be played during the funeral service can also be arranged at an extra cost.
Please contact your funeral director or the bereavement services office if you have any queries.
Check what music is available by using these links and selecting 'Guildford Crematorium'.
If you would like music added to the Wesley music library, please call 01536 314914. For general enquiries, call 01536 314900.
Crematorium documents
Crematorium documents for funeral directors and medical practitioners are in the Downloads section of this page. If you are thinking of organising a funeral service without a funeral director, please contact the bereavement services office at Guildford crematorium for guidance.
Parking
While redevelopment work takes place, we have a temporary car park with 110 places available and additional on-site parking provision, which is clearly signposted. We have disabled parking provision nearer to the chapel.
Useful links
The Cruse Bereavement Care website provides valuable help and information to the bereaved.
Surrey SANDS (Stillbirth and Neonatal Death) is a charity dedicated to those who have suffered the loss of a baby or child.
Visit the Department of Works and Pensions website for information on assisted funerals.
The Bereavement Advice Centre website has practical advice on matters concerning bereavement, including advice and information on probate, organising a funeral, registering a death, coroners, money and tax information.
For help and support, please visit the At a Loss bereavement support website.

Christmas Service of Remembrance
18 December, 6.30pm
Please come and join us for this service which includes carols, readings and the chance to light a candle in memory of your loved ones. Stay for mulled wine and mince pies after the service.
Tickets are free and can be obtained by calling the bereavement services office on 01483 444711.
---
Address
New Pond Road, Godalming GU7 3DB
(If using Sat Nav, you may need to enter New Pond Road, Compton, GU7 3DB or B3000, Godalming, GU7 3DB.)
Chapel times
9am, 9.45am, 10.30am,
11.15am, 12 noon, 12.45pm,
1.30pm, 2.15pm, 3pm,
3.45pm
Related pages