You are here:

Friends of Guildford Museum
Friends of Guildford Museum
Become a Friend of Guildford Museum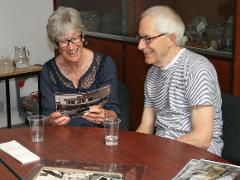 The Friends of Guildford Museum supports the work and development of Guildford Museum.
They raise funds which support projects and acquisitions and many Friends also volunteer as stewards at the medieval 'Undercroft' in Guildford High Street. They also give the Heritage Services Team invaluable help at our annual Alice Day and Christmas at the Castle events.
The Friends organise their own programme of talks and visits to Surrey villages and other places of historic interest near Guildford, and sometimes further afield.
We also invite Friends to previews and special events linked to the museum's temporary exhibitions.
To find out more, including the programme of future events and details of the membership fee, please visit the Friends of Guildford Museum website.