You are here:

Community projects
Community projects
We're keen to engage with our diverse communities in new ways - through outreach projects, events, exhibitions and partnerships. Find out what we have been doing to attract new audiences.
Since 2017 and the launch of Your Stories Your Museum project, Guildford Museum has endeavoured to reflect its diverse audiences with an extensive programme of outreach projects, events, exhibitions and partnerships, designed to attract new audiences. Here you can explore some of the examples of previous community projects developed.
If you are interested in developing a community or partnership project with Guilford Museum please contact us on 1483444751 or email Heritage Services.
History Detectives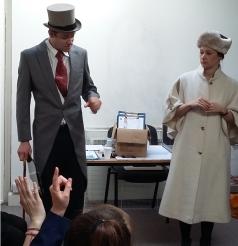 In January, ten students from King's College Guildford took part in a pilot session as part of the Your Stories Your Museum project.'History Detectives' session, was a one day workshop devised and delivered in partnership between Guildford Museum team and the Yvonne Arnaud Theatre Education and Outreach team. The workshop aimed at raising awareness of the processes the museum goes through in identifying and exhibiting an item, as well as developing the young people's critical thinking, teamwork, communication, presentation and performance skills.
Learning to Fly project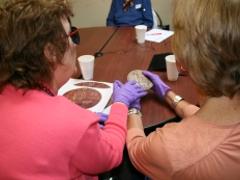 We joined
Arts Partnership Surrey
and
Sight For Surrey
on a poetry project as part of the "Surrey in the Great War: A County Remembers" archive project. People with vision impairment had the opportunity to find out about the experience of Surrey people in World War I, handle original artefacts and listen to inspiring stories. Their final work was displayed in the Discovery Lounge gallery on the discovery table.
Our Stories Our Museum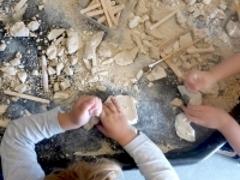 In October 2017 we worked with
Guildford Nursery and Children's Centre
to find out what the children and their parents would like to see in the museum. Artist Becci Kenning of Art In-Transit worked alongside Heritage, Arts, Nursery and Children's centre staff on a range of fun activities that uncovered what things interest young children in museums.
Guildford at Work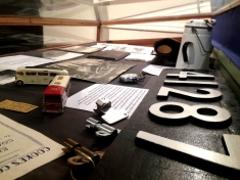 'Guildford at Work' exhibition - recollections of local industries and put together by the 'Joining In!' Men's Group, and the Guildford Museum team. This exhibition looked at some of the many companies that thrived in Guildford in the second half of the 20th century. Exhibits included participant's personal items and museum collection objects from companies such as Dennis Brothers, Nelco and Plastic Coatings.
The 'Joining In!' Men's Group is a friendly social group for older men, focusing on local history, nostalgia and memories.
For the museum, this exhibition aimed to be the first in an on-going 'community curators' programme of temporary exhibitions, organised by different community groups in the borough.