You are here:

Bringing history to life: Guildford Museum out and about this summer
Bringing history to life: Guildford Museum out and about this summer
Connecting the past with the present and bringing history to life, Guildford Museum is out and about this summer, with lots of exciting free events around the borough.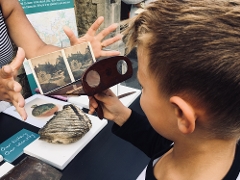 Lead Councillor for Leisure, Heritage and Tourism, Cllr James Steel, says: "We're taking our museum out and about over the next few months linking the past with the present and bringing history to life. From creative fun in the Castle Grounds to family events and exhibitions there is something for all ages to enjoy - and there is no charge to join in with any of our activities. "
Highlights include:
bringing medieval Guildford back to life with free family fun in the Castle Grounds on 15 June
linking historic past and present objects with their location at Shackleford Village Fete on 22 June, and at Wood Street Village Show on 20 July
People and Places - free exhibition at Guildford House Gallery from 20 July to 22 September
Inspired By Alice - Family Fun Day - free entertainment based on Lewis Carroll's famous character at the Castle Grounds on 3 August
create an origami boat for free at our stand at Guildford-on-Sea Urban Beach from 8 to 10 August.
You can also view a range of fascinating historic objects in our online collection.
While the museum is out and about, the museum building itself is temporarily closed for planned, essential maintenance with an aim to re-open in the autumn.
Adds Cllr Steel: "We're always looking at new and inventive ways to share our arts and heritage and this essential work on our museum building gives us the opportunity to take our museum out and about.
"We have exciting proposals to improve Guildford Museum in the future, transforming it into a major focal point for heritage and the arts. The proposed scheme would provide a new cultural destination linking with a wide variety of our own and other attractions across our area. Our plans are at an early stage, and this current essential maintenance work is part of our investment in the museum's future. It must be carried out now to safeguard the collections and exhibits, and will be taken into account in any future redevelopment."
While the museum is temporarily closed, activities that usually take place there, like Coffee Time Talks, Saturday family Fun and Finds Identification will be at Guildford House Gallery on Guildford High Street.
Look out for more information about the events and updates on our website.
Published on Tuesday 11 June.