Aspire projects and future events
The Community Wellbeing team work with members of the public and groups from all corners of the borough to deliver a number of projects.
These projects enable individuals and communities to come together to explore unique opportunities to benefit our borough's wellbeing.
You will find that we cover many topics in our projects, which include gardening, cooking, youth work, art, environmental, heritage, intergeneration and much more!
You will find information on projects we have recently worked on, or ones currently running that you can get involved in.
community bulb planting
swap shops in Ash
grassroots networking events
car boot family fun day
intergenerational magic show
creating a new community suite at the Park Barn Centre
Syrian gardening project at Guildford House Gallery and the Park Barn Centre
table top sale
school book swap at Guildford Grove
poppy project for the centenary in Ash

If you want to get involved in any future projects, or have an idea for a project of your own please let us know.
Cathedral View Transformation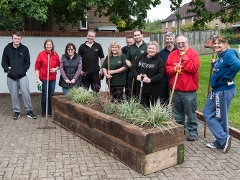 The University of Surrey, along with north Guildford Community Wardens and local residents, has transformed a disused drying area in Cathedral View into a community asset.
After consulting with local residents, it was agreed to create a community garden in memory of a local resident.