Guildford in Bloom - #GIB2021 #blooming40
Guildford in Bloom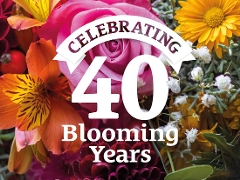 They say life begins at 40! Guildford in Bloom has come a long way in its 40 years and met lots of fantastic people, businesses, schools and community groups along the way!
We turn 40 at a time when our gardens have become more and more important since March 2020 when we have spent so much time at home. There is no question is has helped many people with their fitness and their mental health - not to mention the amount of fruit and vegetables that have been grown to keep healthy!
It is now so important to look after wildlife, especially bees, as their populations decrease at a rapid rate by planting to attract our pollinators.
So, join us in this our special 40th Anniversary Year - enter our gardening competitions, follow us on our social media platforms and share your photos and stories with us. If you need help with a garden problem don't be afraid to ask us. Any garden, big or small, private or a business can enter Guildford in Bloom.
Let's get gardening for health and wildlife #blooming40
Videos