Right to buy income helps us provide more social housing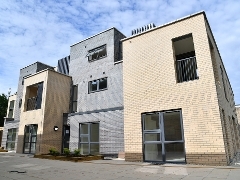 We will build and buy more social housing in our borough and continue to improve the monitoring and reporting of our income from the government's Right To Buy (RTB) scheme as part of improvements to our housing programme.

Our Corporate Governance and Standards Committee last week accepted all seven recommendations in the report by independent auditors KPMG after our Right To Buy Review Executive Working Group began to improve our financial monitoring procedures in March.

The Executive Working Group will now implement another of its own 14 recommendations, to create a formal policy on how we spend income we get from selling houses to residents through Right To Buy.

The government's Right to Buy Scheme gives some people who have been a local authority or housing association tenant for at least three years the chance to buy their rented home at a discounted price.
Lead Councillor for Resources and Chair of the Right To Buy Review Executive Working Group, Cllr Tim Anderson says:
"We have already made substantial progress in making sure that we spend all of our Right To Buy income. We have identified new locations and opportunities where we can build new houses and make sure that we help local residents get the houses that they need."
Lead Councillor for Housing, Cllr Julia McShane says:
"Our new housing strategy and development plans will make sure that we use all of the funds available to us to increase our social housing in the borough. This strong development programme, which will include working with registered landlords, will help us to meet the needs of our community, including specialist accommodation for vulnerable residents. These additional homes, along with our new housing application process which launches in September, will help residents find the right property for them and make it easier to track their applications."
We are increasing the number of properties we buy, either through buying back those previously sold under RTB or working with developers to buy properties within a new development before they are built. We are also looking at the possibility of providing grants from our RTB income for Housing Associations to build properties for us.
Changes announced by the government on 19 March 2021 have extended the time in which we must spend these receipts from three years to five. This means that our RTB receipts from 2017-18 must now be spent by 31 March 2023. The percentage of the total cost of replacement social housing which can be funded by RTB receipts was increased from 30% to 40% in the same announcement.
Our new online housing application form will make it easier for residents to bid for houses, tell us about changes in their family circumstances, send us documents and track their applications. We have already started contacting our residents to let them know about the new system.
Videos