Help us to re-design Foxenden Quarry play area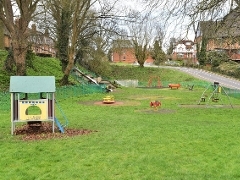 Residents are invited to help us re-design our Foxenden Quarry play area by completing our survey.
The play area, on York Road in Guildford, is being re-designed to make sure that children have as much fun as possible as well as develop motor, decision making, learning, dramatic play and social skills.
Lead Councillor for Environment, Parks and Leisure, Cllr James Steel says:
"Play is vital for young people's development, health and wellbeing. We want to make this play area a wonderful space for everyone to enjoy, and give the play area's users, our residents, the chance to help make it as exciting as possible.
"With around 2,600 acres of parks, gardens, countryside and open spaces to discover our borough has something for everyone. Eight of these green spaces have been awarded the prestigious Green Flag award, as beautifully maintained spaces which have the highest possible environmental standards and provide an excellent visitor experience."
Ward Councillor for Holy Trinity, Councillor John Redpath says:
"We believe that Foxenden Quarry play area will be a fantastic facility for local residents. By inviting those who will use the play area to give their opinions we aim to create a playful environment that is tailored to their preferences.
"With so many exciting design possibilities, we hope the new play area will make Foxenden Quarry another 'must visit' area of our town centre that is greatly enjoyed by all."
In keeping with its history as a chalk quarry, some of the suggested new features include sustainable seating areas, a two-metre rock stack, pivoting boulders, a platform bridge, and swings. There are also accessible opportunities for all children to play together including both a platform roundabout and ground level trampoline which are safe for wheelchair use.
Award-winning landscape architects Davies White, who also designed our Westnye Gardens play area, have produced a video on their plans for the new play area.
Foxenden Quarry play area consultation has now ended.
Guildford residents have until Sunday to have their say on the future of Foxenden Quarry, which is set to be transformed into a children's play area.@GuildfordBC @james_steel7 pic.twitter.com/v0sHn1Hqo0

— Thats TV South East (@TTVSouthEast) August 13, 2021
Videos