New Club House for the Aggie Club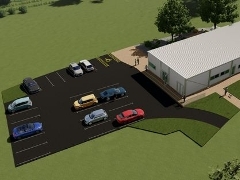 We are building a new Club House for the Stoke and District Horticultural Society as part of our exciting Weyside Urban Village development at Slyfield.

The Society, better known as The Aggie Club, will move from their current home on Bellfields Road to the new temporary building on land at our Woking Road Depot. Our proposals were approved by our Planning Committee last week.

Lead Councillor for Major Projects, Cllr John Rigg says:

"The new Club House is an important part of our Weyside Urban Village development and relocation of the Bellfields Road allotments. We have worked closely with the Society on these plans to ensure that the building provides everything that members need.

"Listening to what our residents have to say is an important part of the Weyside Urban Village masterplan and we have received a great number of positive responses. Residents will still be able to scrutinise our proposals and help us to realise the enormous potential that exists on this brownfield site.

"Weyside Urban Village will be a great benefit to Guildford, bringing affordable homes, new employment opportunities and community space to residents. We'll also be providing excellent infrastructure and travel improvements, extended facilities at Weyfield Primary School and exciting employment opportunities. The Project will be built to the highest environmental standards. The future is our young people and those growing up here or moving into the area. They want affordable sustainable living with high quality public space, leisure and cultural experiences and we aim to deliver this vision."

Councillor for Stoke Ward, Cllr Angela Gunning says:

"Providing excellent facilities for members of our community, including residents of my ward, is a key part of our proposals for Weyside Urban Village. It's fantastic to see the project making good progress and we are grateful to the Aggie Club for working with us on these plans.

"As well as providing more homes - especially affordable homes - for Guildford residents, we hope to be able to increase the total number of allotment plots in the Borough by keeping some of the plots at Bellfields Road and building new plots at North Moors and Aldershot Road."

The new Club House will be a single storey wood and aluminium building with a floor area of 240.6 square metres. It will be on land at our Woking Road Depot site close to the existing Club House, near Parsons Green and Lavender Cottage. It will include a main hall, bar, kitchen, cellar, office and toilets, with parking for 21 cars as well as a number of bicycles. Acoustic fences and insulation will be used to minimise noise from inside the building as part of our noise management plan.

Made from sustainably sourced materials and positioned to make the most of solar energy and natural light, the building's appliances will be all electrical and water efficient. Sustainable Rockwool insulation will also increase its energy efficiency.

Our proposals for a new riverside community of 1,500 homes on brownfield land at Slyfield, 40% of which will be affordable, also feature community facilities and flexible employment space as well as a local centre offering retail, healthcare and a nursery school. We also propose to transform almost 46 hectares of land into publicly accessible open space and a Nature Reserve which will provide a number of environmental, economic and social opportunities for both existing and future residents.

The project will protect the Wey's industrial heritage by preserving key buildings such as the Pump House. It will also promote active travel with a new Riverside Walk into the town centre and priority given to bus, cycle and pedestrian access to the development. The relocation of both the existing waste transfer depot and the Sewage Treatment Works will allow greater access to the River Wey.

The project is expected to be completed within 10-15 years. Residents are still encouraged to give their views - as well as watch seven public exhibitions - through the project website, www.WeysideUrbanVillage.co.uk.
Paper copies of these exhibitions can be requested by calling the Project Team on 020 7399 2294.
Videos