Guildford and Waverley Borough Councils commit to shared management team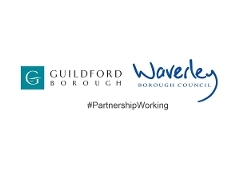 Guildford and Waverley Borough Councils have moved a step closer to more formalised partnership working by agreeing to combine some of their administrative functions. Both councils will share a single senior management team, including a Chief Executive, Directors and Heads of Service. Once in place, the new management team will be responsible for preparing business cases for further combining of services and/ or administrative work.
In February this year, KPMG published a report that highlighted a clear need for neighbouring authorities across Surrey to consider the expansion of existing partnerships to reduce the duplication of services, increase efficiency and provide better value for money for residents. Since then, Executive Committee members of both councils have been working together, along with the Local Government Association (LGA) to explore potential options for greater partnership working. It was hoped that this could help the councils reduce costs and address projected budget shortfalls, due to the continuing cuts to their funding from Central Government.
The LGA assessed a range of potential collaboration options, and following public discussions the councils have now agreed to move ahead with a shared senior management team as the most practical and effective means of implementing further collaboration. The first step will be to appoint a single Chief Executive, who will oversee the creation of the new team. The councils will now proceed with the recruitment process to appoint a Joint Chief Executive.
While the councils will share a single senior officer team which is responsible for the operational delivery of services, they will remain entirely separate entities, retaining their own constitutions, elected members and democratic processes.

Leader of Guildford Borough Council, Cllr Joss Bigmore, said:

"Last night's decisions mark a positive step forward for us in future-proofing and protecting our local services for our residents and businesses in Guildford and Waverley. Thank you to all councillors at both councils for reaching this milestone. Despite being on track to achieve our target of £8million savings though our Future Guildford Transformation Programme we need to find £6millon - 10% of our spending - over the next four years in Guildford alone and recent changes by the government restrict our abilities to act in the commercial world to offset a substantial reduction in government funding. There are tangible benefits to closer collaboration from cost saving to resilience and by beginning with a shared senior management team and one Chief Executive we can ensure a solid strategic officer base from the outset. However we must be clear, we will still need to make difficult decisions in both councils in order to continue to make savings. For us at Guildford these have been identified in our Savings Strategy approved at a recent meeting of our Executive and include closer working with Waverley and looking at our discretionary services and our own assets which we asked our residents for feedback on earlier in the year.
He added: "We understand the move to commit to further partnership working can feel unsettling both for our staff, residents and businesses, and I can reassure you that we will do all we can to make this transition as smooth as possible for everyone. By starting the process this way with a shared management team we are confident this is the best option to do that."
Leader of Waverley Borough Council, Cllr Paul Follows, said:

"Local authorities have had significant cuts to their funding from Government over the last decade, and many are now having to contemplate some really tough choices about cutting local services to make ends meet. Even before the effects of the Covid-19 pandemic, Waverley Borough Council had embarked on an ambitious programme of measures to deliver cost savings and to maximise the use of our assets to increase income. However, we still have a residual budget shortfall of £7.8million over the next four years.
"Cooperation with our neighbour Guildford could not only allow us to make financial savings and protect our services, but by combining our strengths, could actually help us both to improve our services, even as other areas are having to contemplate cuts to theirs.
Councillor Follows added: "Local government reorganisation has been high on the Government's agenda for many years now, and it is likely that at some point, there will be a move to a Unitary council structure in Surrey. Guildford and Waverley would make a logical core for any such organisation covering our area, and closer cooperation between us could help demonstrate the effectiveness of that arrangement. Ultimately, we hope to achieve a highly successful partnership, that other local authorities in Surrey will want to use as a model or even join."
Videos