This weekend children take over our High Street with their own Business Fair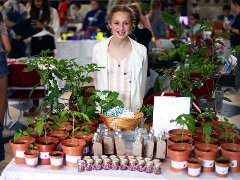 This weekend we have a fantastic fair with a twist taking place on our historic High Street. You'll get to meet some great entrepreneurs as children take over for the Children's Business Fair stalls this Saturday 17 July 9.30am - 3.30pm.
This will be the fifth Children's Business Fair that has seen more than 200 Guildford-based entrepreneurs launching over 120 businesses and selling to more than 2000 customers. Support our next generation of tycoons, aged seven to 17, looking for an opportunity to launch their very own business and experience the thrill of selling their products and earning their own money.
Lead Councillor for Economy, Cllr John Redpath says:
"It's brilliant to see this innovative market back in our High Street again, it's a pleasure to support them. The fair offers young entrepreneurs the unique chance to set up and sell their products from start to finish. The responsibility is huge for these talented young people. Please drop by on Saturday."
The young entrepreneurs are responsible for doing it all; product making, set up, to customer interaction and sales. Choose from handmade inventions, greeting cards, baked goods, handcrafted jewellery and toys, t-shirts, decorative crafts, scented candles, needlecraft and more.

"These are some of the grittiest, most resilient creative young entrepreneurs we've ever met. They are tomorrow's leaders, captains of industry and millionaire entrepreneurs. Worried about the future of the economy? Come and meet the next generation of great entrepreneurs at the Guildford Children's Business Fair." said Sam Rogerson, founder of the Children's Business Fair UK.

The Mayor, Cllr Marsha Moseley accompanied by her Consort Cllr Nigel Manning, will be visiting the Children's Business Fair.
You can find out more about The Children's Business Fair here: www.childrensbusinessfair.co.uk
The event is supported by Guildford Borough Council through funding from the Government's Welcome Back Fund.
Other dates for markets in Guildford are:
Guildford Farmers Market
Tuesday 3rd August
Tuesday 7th September
Antiques and Brocante Market
Ethical Vegan Market
North Street Market
Every Friday and Saturday 8.30am - 5.00pm
You can keep up-to-date with all our markets by visiting our website or by following the Guildford Farmers' Market on Facebook and Instagram.
Videos