Come and visit us at The Hive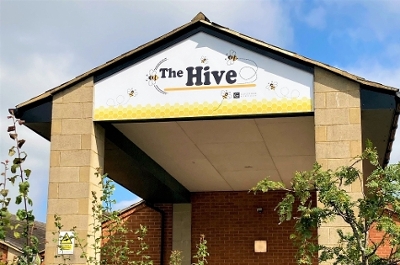 Community is at the heart of all we do and we would love to see you at our refreshed community space for all residents of the borough. You may have known us before as the Park Barn Centre - but we are now known as The Hive - and have services on offer for everyone of all ages to enjoy.
At the Hive there is so much to do.
We have for you an activities hub with different social activities available every day - perhaps you fancy trying your hand at some community art or gardening? Our Honeypot coffee shop is not to be missed with delicious homemade cake and we have a play zone for young children as well as a hairdresser.
To help and support our communities we also have a community fridge that everyone is welcome to use as well as our thrive at the hive preloved hub that has a variety of clothes, toys and homeware.
Lead Councillor for Community, Cllr Julia McShane says:
"We are seeing so many of our residents enjoying The Hive already, it's brilliant. As a hub for the local community, this wonderful space is designed for all ages and is a fantastic way for residents to socialise, get support and support each other. I hope that the Community Fridge at the Hive will help us to address food waste and food poverty across Guildford and provide free essentials for those who really need it.
"Meanwhile, the Thrive at the Hive initiative provides a great opportunity for individuals and families to get good quality pre-loved clothing, homeware and toys on a pay as you feel basis."
Please do come and see us.
The Community Services team is here and our Community Engagement Advisors are here to provide guidance and support.
The Honeypot coffee shop is open Monday to Thursday 9am to 4pm and Friday 9am to 3.30pm
The Guildford Community Fridge is open to everyone from Monday to Friday 10am-3pm and you can collect food essentials of charge. We kindly ask that people only take what they need and bring a re-usable bag where possible.
If you would like to visit Thrive at the Hive preloved hub please give us a call on 01483 444150 or email Community.Wellbeing@guildford.gov.uk.
You can find us at The Hive, Park Barn Drive, GU2 8EN (just behind Kings College Guildford). There is free parking or you can use bus routes 1, 4, 5, 17 to visit us.
We're asking all our visitors to please follow the new government suggestions to continue to wear a mask, sanitise their hands and keep a distance from those not in their family.
For more information on The Hive, please call the Community Wellbeing Team You can keep up-to-date with what's on at The Hive by visiting www.guildford.gov.uk or by following the Community Wellbeing team's Facebook page.
Videos