Join us in Celebrating Love Parks Week
We celebrate the physical and mental health benefits of our award-winning parks and green spaces during Keep Britain Tidy's Love Parks Week.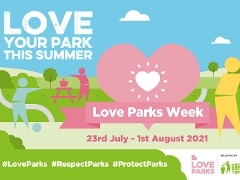 Running from Friday 23 July to Sunday 1 August, the annual event allows us to 'Love, Respect and Protect' our parks, which have supported our residents' wellbeing during the Coronavirus (Covid-19) pandemic.
Lead Councillor for Environment, Cllr James Steel says:
"Our beautiful parks and green spaces have been awarded seven green flags and Love Parks Week is an excellent opportunity to celebrate them. During this unprecedented year, our Parks and Countryside team have done a brilliant job in keeping them to such a high standard.
"According to the NHS, just five minutes of exercise in parks and countryside can boost your mental health. The week also serves as an important reminder for us all to respect and protect our outdoor spaces that we enjoy and be considerate of the wildlife and environment.
"We can all do our bit to look after our beloved parks. Please use our litter bins or take rubbish home with you, continue to follow the Countryside Code, and do not light fires or have barbecues in our parks and green spaces as they can do great damage to wildlife and the environment."
Cllr Steel continues:
"Stoke Park is Guildford's largest and most popular park. There are 27 hectares of unspoiled rolling grassland and open views across Guildford. Why not explore our recently restored Japanese garden or cool off on a hot day in the paddling pool? You can play minigolf, have fun in the playground or relax in our peaceful rose garden."
In May 2020, 9 out of 10 people surveyed by Natural England agreed that natural spaces are good for mental health and wellbeing. Whether it is for daily exercise, fresh air, peace and quiet or a place to meet friends and family, our parks have been a vital lifeline for many residents.
Our borough has over 80 parks, gardens and green spaces to explore and enjoy. Our green spaces range from quiet hidden gardens to large lively parks. We have a range of exciting facilities at our parks and green spaces. These include children's playgrounds, outdoor gyms, sports courts, multi-use games areas and skate parks.
Why not visit our West Nye Gardens which was transformed into an exciting play space for younger children by award-winning Chartered Landscape Architects, Davies White.
The Castle Grounds, Stoke Park, Sutherland Memorial Park, Allen House Grounds, Riverside Nature Reserve, Chilworth Gunpowder Mills, and Lakeside Nature Reserve have been received the prestigious Green Flag Award. The Green Flag Award scheme, managed by environmental charity Keep Britain Tidy under licence from the Ministry of Housing, Communities and Local Government, recognises and rewards beautifully maintained spaces which have the highest possible environmental standards and provide an excellent visitor experience.
Find out more about our parks, playgrounds and green spaces in Guildford.
Videos