100 Laptops donated to local schools to support students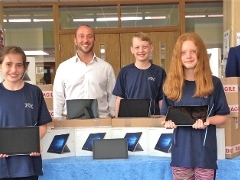 Local students can continue to work online after our charitable fund Guildford Philanthropy donated another 50 laptops to Kings College and Guildford Grove School.
Guildford Philanthropy approached Microsoft to explain the digital disadvantage some local school children have in Guildford and they agreed to supply the laptops. Microsoft have been supporting the Learning Foundation, a charity which has been working for 20 years to help schools engage with technology. They launched Digital Access for All in 2019 to support children, young people and families with limited or no access to technology at home.
This follows a previous 50 laptops that were donated by Guildford Philanthropy to Kings College earlier this year. The laptops were provided by Guildford IT company Unigold 2000, a Guildford Philanthropy Corporate Ambassador.
Chairman of Guildford Philanthropy, Peter Cluff says:
"We are so pleased that we are able to help provide more laptops to local school children, to help them continue their online studies. Since we started in early 2014, we have sought to raise awareness and improve the lives of disadvantaged people across the borough. We really appreciate any support we receive, whether it's from our Corporate Ambassadors, the Guildford Community Lottery or match funding from Guildford Borough Council. This goes a long way to help those who need it."
Principal of Kings College, Alastair McKenzie says:
"We are so thankful for another kind donation of laptops which will support our students with their online studies. We are humbled by this and the way the whole community works together to ensure all students are able to make fantastic academic progress."
Leader of the Council, Cllr Joss Bigmore says:
"Helping students with their online studies is incredibly important. They are our future. These laptops will go a long way to help those families with little or no access to computers. We are always here to help and are really pleased that our networks can get these generous donations to local schools so quickly. Thank you to Guildford Philanthropy, Microsoft and the Learning Foundation for making this happen."
Lead Councillor for Community and Housing, Cllr Julia McShane says:
"This is fantastic news for the students and their families and will help the schools support their students. Community is at the heart of everything we do and it's really important that we work together to help our young people fulfil their potential and get the most from their studies. These laptops will not just benefit the students, they will help the entire community."
Videos