The cost of the Coronavirus (Covid-19) pandemic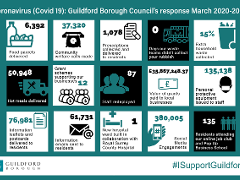 We have spent £6m more than budgeted for 2020-21. This is mostly from increased spending on emergency support services and supporting our leisure centres, as well as a reduction in income for other services we provide.
We have received financial support from government but this did not cover all our costs and loss of income, resulting in the £6million loss which we have used reserves to cover.
Cllr Joss Bigmore, Leader of the Council, said: "Despite financial pressure we were able to support so many people during a very hard time. Bins were still collected, staff made almost 40,000 phone calls to support the most vulnerable members of our community and we provided more than 50,000 hot meals. We redeployed 87 of our staff, issued 6,392 food parcels and paid almost £36million in grants to local businesses.
"The Spectrum, Lido, Ash Manor and GLive were able to re-open because we chose to support them financially. We know that the benefits that these facilities bring to so many people are worth the financial impact that it has.
"We spend significantly more than other councils on some services because of the value they bring to residents, visitors and businesses. Planning, housing benefit administration, street cleaning, support for the elderly, community development and bus services are all services we have prioritised and continued to offer.
"We are on course to save £8million through our Future Guildford Transformation Programme. But we now need to save a further £6million over the next four years. This is equivalent to 10% of our spending. We will need to make brave and innovative decisions."
Our Savings Strategy has identified four key areas in which we can save money: non-essential services, Capital Programme and Major Projects, operational assets, and collaboration with a neighbouring borough.
Cllr Tim Anderson, Lead Councillor for Resources, said: "Until now we have been able to provide nearly £400 of services from the £181.82 that we keep from a Band D property council tax payment - which is 9% of the total. The rest goes to the county council (75%), parish councils (2%) and Police and Crime Commissioner (14%).
"Although we collect business rates we only keep 5%, the rest is taken by central government.
"We have been able to continue to invest in key projects because they are funded through grants, capital receipts, reserves and borrowing. The borrowed funds can be paid back over many years and give us the opportunity to continue to provide services.
"We are not allowed to borrow to support our day-to-day services, the government has reduced our funding and restricted out ability to act in the commercial world. This will bring more challenges as funding continues to be reduced and we strive to provide the same and better services."
We have already identified around £5.2million in savings and £500,000 in extra income that we are pursuing. These include the future of non-essential services, our Milmead House offices and sharing management teams with Waverley Borough Council.
Published on: 25 August 2021
Videos