Need a bit of inspiration for some bank holiday fun? You don't need to look far...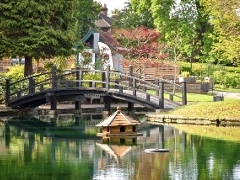 Our beautiful, historic borough offers fun for all ages this weekend.
From 2,600 acres of award-winning parks and green spaces to fantastic leisure and entertainment facilities and a fascinating museum bursting with thousands of years of local history, Guildford has something for everyone.
The only problem is how to fit it all in...
Guildford Museum, Quarry Street: Open on Saturday afternoon, from midday until 4pm, with some great exhibits and interactive family fun that brings the town to life from prehistoric ages to (almost) the present day. You can paint your own portrait, play with Victorian toys and become a history detective yourself with four fantastic family activity sheets which help you explore the Museum, Castle and Quarry Street. Visit the Museum's website.
Secret Stories: Our free Secret Stories walking app, created in partnership with Ordnance Survey, shares even more brilliant facts as you follow the 'Guildford's Golden Nuggets' guided tour around the town. Suitable for all ages and with many more walking tours right across the country, it is user-friendly with simple maps that the whole family can follow. Download the app for Android and iOS smartphones by searching 'Secret Stories' in Google Play and the Apple App Store.
Castle Grounds concert: Free live music in the beautiful surroundings of our castle grounds this Sunday from 2-4pm, as five-piece band Squeezebox play classic songs from the 60s to the present day. Bring a picnic and maybe even your dancing shoes.
Guildford High Street: Our famous 19th century setts resonate with history at each footstep but if you look up you will also see our new colourful wildflower decorations high above your head to brighten even the cloudiest bank holiday! At the bottom of the High Street, Phoenix Court has been transformed into an urban oasis [parklet]. Oh, and there's some great shopping to be done too.
Alice in... Guildfordland: Meet Alice on her journey to Wonderland as we tell the story of honorary Guildfordian Lewis Carroll. Guildford Museum has a number of exhibits donated by his family. Our castle grounds captures Alice as she goes Through The Looking Glass, and there's another statue of Alice with her sister, watching the rabbit disappear down its hole, in Millmead. The nearby Allen House Gardens, on Chertsey Street, has a Jabberwocky-themed garden too. For even more Carroll connections, visit the Visit Guildford website. But don't be late!
Playgrounds: Zip wires, trampolines, spider web climbers, sandpits, obstacle courses, monkey bars, whizzers - as well as good old-fashioned swings and roundabouts. We're exhausted just reading all of that but your little ones will have more than enough energy to tackle one of our 33 playgrounds in the borough. Visit our website for a full list.
Spectrum Leisure Centre, Parkway: Enjoy swimming, water slides, soft play, ice skating, bowling and much more at one of the UK's most popular leisure centres. Visit the Spectrum website for full details. If you're heading into town afterwards, why not catch one of our electric Park and Ride buses from the Spectrum car park to help the environment and save money?
Stoke Park: 27 hectares of rolling parkland with a few hidden gems. Make a splash in our popular paddling pool, which is open throughout the weekend to help you stay cool. Play tennis and mini golf, stroll past our Japanese garden and model boating pond, start your path to Olympic gold in our skate park or rest in our rose garden. There's also a children's playground and refreshments kiosk to provide everything you need for a fun-filled afternoon. Visit our website.
Guildford Lido: Take the plunge while the weather - and the water - is still warm enough! Enjoy outdoor swimming and maybe even catch a few rays of sunshine poolside, all in our town centre. Visit the Lido website for details.
North Street Market: set yourself up for the day - and the rest of the week - with some delicious fresh local produce from our North Street Market, which is open on Saturday from 8.30am - 5pm. The perfect place to create a picnic before you head to our...
Parks and green spaces: Get away from the bustling town centre to relax on a walk in one of our many parks and countryside spaces. Enjoy the peaceful atmosphere and fresh air and see how many different species of wildlife and wildflowers you can spot. Nine of our parks and green spaces (Castle Grounds, Memorial Park, Allen House Grounds, Stoke Park, Riverside Nature Reserve, Chilworth Gunpowder Mills, Lakeside Nature Reserve, Guildford Crematorium and The Mount Cemetery) have received the prestigious Green Flag Award, for their beauty, environmental standards and excellent visitor experience. To find your favourite new place, visit our parks, playgrounds and greenspaces page.
Chilworth Gunpowder Mills: One of Guildford's most important heritage sites, a Scheduled Ancient Monument with a rich history dating back to the 17th century. The site, which features more than 100 buildings, was once one of the largest gunpowder mills in the country and was for a period the only gunpowder supplier to the King. Walk along the Tillingbourne River and through woodland - where you might see toads, dormice, bats and rare species of moth. For more information, visit Chilworth Gunpowder Mills - Guildford Borough Council.
... and if that's not enough, there's even more great things to do around the borough and beyond - see the Visit Guildford website for details.
Videos