Heritage Open Days returns to Guildford this week
Discover the hidden treasures on your doorstep and celebrate our borough's heritage as England's largest festival of history and culture returns to Guildford, Thursday 16 - Sunday 19 September.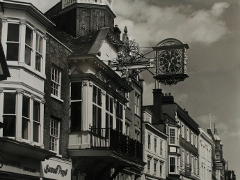 Discover the hidden treasures on your doorstep and celebrate our borough's heritage as England's largest festival of history and culture returns to Guildford this week, from Thursday 16 - Sunday 19 September.
The free Heritage Open Days festival starts at one of our most famous and iconic landmarks, The Guildhall on our High Street. Discover the fascinating history of this Grade I listed building and scheduled ancient monument, which since the 16th century has been used as the town's business and civic centre, courtroom, council chamber and even fire station. The Guildhall, including the balcony overlooking the High Street, is open from 10am-4pm on Thursday 16 September.
Lead Councillor for Economy, Cllr John Redpath, says: "We are lucky to have such a rich history in our borough. Heritage Open Days is a great chance to discover places you may not have seen before. From fantastic architecture to forgotten historic tales and outdoor spaces it's perfect for all the family. We have many beautiful buildings in our borough including Guildford Castle, Guildford Museum, Guildhall, Medieval Undercroft and the Victorian School Room. We look forward to seeing you enjoy learning more about our borough's past.

"Thank you to all the wonderful volunteers, Guildford Society, Guildford Heritage Forum, Guildford Town Guides and Friends of Guildford Museum."
Lead Councillor for Environment, Cllr James Steel, says: "We know how much people love to visit our borough to learn about our diverse history and culture. Heritage Open Days is free and an opportunity to learn about Guildford's history. You can find out all about Guildford's arts and culture at the Yvonne Arnaud Theatre and Sydney Sime Gallery."
Discover all that's on offer on the Heritage Open Days via their website.
On Friday 17 September at 10.30am, take a tour of Guildford Museum to learn what life was like in the town from prehistoric to (almost) the present day, via the Romans, Saxons and Medieval times. The tour is free but advance booking is required by calling 01483 444751. Don't forget to visit other museums nearby such as Ash Local History Museum, or The Museum of Military Medicine at Keogh Barracks in Ash Vale.
Climb to the top of our famous castle tower on Saturday 18 September, and watch a re-enactment of medieval life, including weapons and fight demonstrations, on the castle green. The castle tower is open 10am-5pm, and Historia Normannis bring the 12th century back to life with knights, craftsmen, ladies of the court and barons of the realm from 9am-4pm.
The National Trust's annual Wey River Festival starts at 11am on Saturday 18 September, with food and craft stalls and children's activities at Dapdune Wharf, and ends at dusk with a spectacular illuminated procession down the River.
Saturday also invites you to go back in time and back to school, with a recreation of an 1893 Victorian School Room at 39 and a half Castle Street. The building itself was originally a chapel opened in 1816 and has also been used as a hay and corn store, confectionary works and Salter's printing works. The School Room is open from 11am-3.30pm.
The 13th century Grade II listed Undercroft, at 72 High Street, is one of the finest of its kind in the country. Used as a storage room, the elaborate stonework and carvings were intended for display to wealthy clients seeking luxury goods. The Undercroft is open from 10am-4pm on Saturday 18 and Sunday 19 September.
Visit the Great Barn of Wanborough, built in 1388 by monks from Waverley Abbey, to enjoy the 10,000 Years of History exhibition and learn about its role in training 'Churchill's Secret Army' during World War 2. The Great Barn is open from 10am-5pm on Saturday 18 and Sunday 19 September.
The Grade 1 listed Holy Trinity Church, the most important Georgian church in Surrey, is open from Friday 17 to Sunday 19 September. Find out more about its bell tower, ringing chamber and belfry. Other churches, including St Mary's Church and St Nicola's Church in Guildford, St Peter and St Paul in West Clandon and St Martha-on-the-Hill in Chilworth are also open this weekend.
The Sime Art Gallery hosts a series of special events across the weekend at Worplesdon Memorial Hall. These include an art workshop for 13-16 year-olds based on Sydney Sime's Victorian theatre cartoons, talks on his work, and a heritage walk through Worplesdon and Whitmoor Common. For full details, visit the Signey Sime Gallery website. 
Established in 1994, Heritage Open Days has grown into the country's largest community heritage festival. Each year, heritage sites across the country open their doors giving people the chance to see hidden places and try new experiences for free. We have supported this event with funding from the government's Welcome Back Fund.
Published 15 September 2021
Videos