Painting the town purple for Purple Flag Big Weekend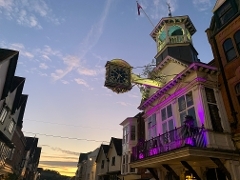 We are celebrating the quality and safety of our town's nightlife by lighting up the town in purple for Purple Flag Big Weekend.
The Purple Flag is like the Green Flag awards for parks and Blue Flag awards for beaches. It recognises the excellent management of our night-time economy and the safe and diverse nights out our residents and visitors can enjoy. Guildford remains the only town in Surrey with the national accreditation.
As part of the Big Weekend, we will be lighting up our historic Castle, the Guildhall, Guildford House Gallery and Tunsgate Arch in purple.

Our Purple Flag Weekend mascot, 'The Purple Man', will be out and about in Guildford town centre over the weekend. You'll find Purple Man in different venues, accompanied by Experience Guildford, doing on the spot quizzes and handing out prizes on Friday evening to celebrate and promote the Purple Flag. If you spot him, say hello, take pictures and let us know how much you enjoy going out in Guildford using #ChooseGuildford.
Lead Councillor for Economy, Cllr John Redpath says:
"Our hospitality businesses have had a very difficult 18 months. It has been brilliant to see residents and visitors enjoying our diverse range of restaurants, pubs and bars and the delicious foods and drinks they have to offer.
"Thank you to everyone who contributes to making Guildford such a special and safe space in the evening. Our night-time economy gives our town a buzz and creates a vibrant atmosphere. We are proud to have a town centre that has achieved this prestigious award for eight years. I look forward to seeing you in Guildford this weekend."
The Guildford Town Purple Flag Partnership Group (GTPFP) is led by us and Experience Guildford (the town's Business Improvement District) and includes a broad range of town and county organisations including Surrey Police, the Safer Guildford Partnership, Street Angels and Guildford Pub Watch.
Amanda Masters, CEO of Experience Guildford says:
"Whether you're looking to dine out, catch a gig, movie or show or just grab drinks with friends, Guildford really comes alive after 5pm, so you'll find something to suit all moods if you're planning a night on the town. With events aplenty and a great mix of local hospitality businesses operating throughout the evening, we're proud of our diverse and varied night time offering."

Chair of Guildford Pubwatch, Jane Lyons says:
"The night-time and evening economy in Guildford has a wide ranging offer to cater to varied ages, profiles and interests. We work tirelessly on making Guildford a vibrant, safe and welcoming destination for our visitors to enjoy and are therefore proud to say #chooseguildford."
Published on: 7 October 2021
Videos