Animal welfare considered paw-tastic: Bronze Animal Activity Licensing Award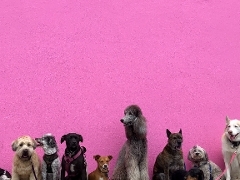 We have been awarded a Bronze Animal Activity Licensing Award from the RSPCA PawPrints Awards for a third year running.
The RSPCA's PawPrint Awards celebrates local authorities, housing providers and emergency services who have gone above and beyond caring for animals in their communities.
The awards, which include five PawPrint categories, recognise excellent practises in animal welfare. The categories are stray dog services, contingency planning, housing policy, animal activity licensing and kennelled dog welfare.
Cllr James Steel, Lead Councillor for the Environment said: "Congratulations to our team for this achievement, especially as the past 18 months have posed a lot of challenges and continue to do so to everyone working on the front line of animal welfare.
"We are one of few councils that have an animal welfare policy. We always look to improve the ways we work to provide better services and care for animals in our borough. We regularly inspect licenced businesses to make sure they have relevant experience or qualifications looking after pets. If you're thinking of buying a puppy or kitten, make sure you buy directly from a licensed breeder - not a shop or third party. Make sure you check the seller is licensed beforehand.
"We also support external agencies and work closely with them to provide best animal care and support we can. One of those services is Dogbusters who collect stray dogs and reunited them with their owners. This fantastic service is now widely recognised by our residents. It operates 24/7 including bank holidays."
Rachel Williams, Senior Parliamentary Adviser for the RSPCA, said:
"We're absolutely delighted that Guildford Borough Council has picked up bronze recognition in the PawPrints Animal Activity Licensing category.
"Licensing is such an important part of what Councils do, and Guildford's award demonstrates the lengths they go to in ensuring animal welfare is a central factor in their licensing process. This includes timely inspections, dealing with complaints and making contacts with local experts, like vets, behaviourists and animal welfare specialists.
"We look forward to continuing to work with the local authority in the future, as we can achieve so much together for animal welfare."
Our residents play a big part in supporting out team effort, but it is also important that as an animal owner, they are aware of animal activities that need to be licenced.
What animal activities need to be licensed?
Boarding dogs in your home
Providing day-care for dogs
Boarding dogs in kennels
Boarding cats
Selling animals as pets
Breeding dogs
Hiring out Horses
Keeping a Zoo
Keeping a dangerous Wild Animal (defined by a Schedule in the Act)
Keeping, or training animals for exhibition
Find out what we can do about lost, stray, dangerous and noisy dogs
Published on: 14 October 2021
Videos