Waverley and Guildford look to appoint Joint Chief Executive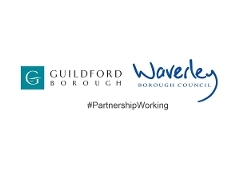 In July, Waverley and Guildford Councils agreed to begin more formalised partnership working, by combining some of their administrative functions. The first phase of the process, - the recruitment of a Joint Chief Executive to lead the officer team at both councils - is now close to completion.
Following a rigorous assessment process involving a stakeholder panel, testing and a final interview conducted by senior councillors, the Joint Appointments Committee agreed to offer the role to Tom Horwood, Waverley Borough Council's current Chief Executive, and he has accepted. The appointment will now be put to both councils at their respective Full Council meetings on 1 November.
Subject to the councils agreeing the appointment, Mr Horwood will lead the next phase of the partnership, which will be the creation of a single senior management team, that will be responsible for developing the business cases for further collaboration and governance between the two councils. While the shared senior officer team will be responsible for the operational delivery of services, the two councils will remain entirely separate entities, retaining their own constitutions, elected members and democratic processes.
Councillor Paul Follows, Leader of Waverley Borough Council, said: 'Having worked closely with Tom over the last few years, both as a councillor and more recently as Leader, I am very pleased to recommend him for this appointment. His experience of having worked previously in a shared management team will be invaluable and I am certain that he is the right person to be leading the two councils on this next phase of our exciting and ambitious journey.
'After more than a decade of significant cuts to our funding from Government, and with even more expected in the next few years, we are reaching the limits of the cost-cutting and efficiency savings that can be achieved on our own. Our collaboration with Guildford has the potential to deliver financial savings and by combining our individual strengths, could actually help us both to improve services, even as other local authorities are planning cuts to theirs."
Leader of Guildford Borough Council, Cllr Joss Bigmore, said: 'I'd firstly like thank our current Managing Director James Whiteman for his brilliant support and long service to our council. James has worked for us for 32 years and decided not to express an interest in the Joint Chief Executive role instead taking voluntary redundancy. His ongoing support, guidance and commitment to the organisation has been outstanding and he will be missed. I am also pleased to recommend Tom Horwood for appointment as the new Joint Chief Executive of Guildford and Waverley borough councils. This is a huge step for both councils and demonstrates our joint commitment to do the very best to protect and future-proof services for our residents. We understand partnership working can feel unsettling for our staff, residents and businesses. I can reassure you that both councils will retain a separate identity and we will do all we can to make this transition as smooth as possible for everyone. We are confident that starting this process by creating a shared management team is the best option.'
He added: 'We are operating in extremely challenging times and like local authorities throughout the country, both councils face ongoing budget deficits. Our closer partnership working is part of our Savings Strategy and will mean we will realise tangible benefits from cost saving to resilience. Despite being on track to achieve our target of £8million savings through our Future Guildford Transformation Programme, we need to save a further £6millon - 10% of our spending - over the next four years in Guildford alone while recent changes by the Government restrict our ability to act in the commercial world to offset a substantial reduction in government funding.'
Published on: 15 October 2021
Videos