Guildford has the will and expertise to lead the UK fight against climate change, says sustainability expert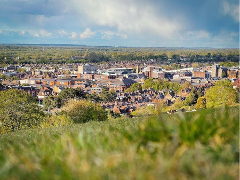 The University of Surrey has announced its commitment to become Net-Zero by 2030 and has urged Guildford to help the UK lead its fight against climate change.
As the world's leaders get ready to travel to the pivotal UN Climate Change Conference in Glasgow, the University of Surrey is making progress against its four-point plan to help cap the rise of global temperatures at 1.5 degree Celsius. The University is also highlighting to local partners the many areas of world-leading research expertise contributing to the local, national and international fight against climate change, aligned to the COP26 priorities of energy transitions, clean air, adaptation, green finance and nature.
To meet its ambitious Net-Zero target, the University will:
Continue to reduce its demand for energy by following best practice in energy conservation;
Grow on-site renewable generation to 20 per cent of demand through a long-term private sector partnership that promotes research and innovation;
Move energy supply to verifiable, certificated sources of green energy;
Use verified sources of offsetting for residual emissions.
The University of Surrey is believed to be one of only three universities in the country with a science-based emissions target. This has allowed the University to calculate its exact share of carbon emission reduction required to make a fair contribution towards limiting the rise of global temperatures to 1.5 degree Celsius.
Graham Miller, Professor of Sustainability in Business and lead on sustainability at the University of Surrey, said:
"The people of Guildford and the University of Surrey's wider community care deeply about climate change and the effect it will have on the planet for generations to come. This is why we were proud to be one of the first universities to commit to becoming Net-Zero by 2030.
"While our Net-Zero target is ambitious, we have been inspired by the passion shown by the wider Guildford community. Whether it is through projects such as Greening Southway or research initiatives like the Guildford Living Lab --- Guildford has the will and expertise to do more than its fair share in the battle against climate change."
Climate change has been one of the Council's key priorities since they declared a climate emergency in 2019. In that time, they have sought to become more environmentally sustainable and have focused on reducing their own carbon footprint and improve air quality in the borough.
Lead Councillor for Climate Change, Cllr Jan Harwood said:
"The first step in tackling climate change issues in our borough is realising that there is a problem. We have made great steps in reducing our own CO2 emissions and will continue to reduce it even further. We need to do all we can on a local level by leading the way and making positive changes in reducing our carbon footprint. In our own buildings we have installed solar panels to increase our sustainable energy use and installed electric vehicle charging points throughout the town and in our car parks. We are also home to Stagecoach who have the biggest electric fleet in the South of England and outside of London.
"We want local future developments in our borough to be eco-friendly, carbon neutral, energy efficient and sustainable. Our draft local plan includes requirements for carbon emissisons in new builds to be 20% better than the national requirement. We are working with developers toward fully electric, gas free buildings that will eventually become zero carbon. Our policies seek for new builds to require less energy, this is more important and will make more of a difference than having a small contribution to low carbon energy.
"In 2018 we began a detailed and targeted air quality monitoring strategy within the town centre. Earlier this year specialist consultants Air Pollution Services found a number of roads exceeded the national standard. We have declared an air quality management area (AQMA) in our town centre and will be putting together an action plan to reduce air pollution.
"Last month we put pedestrians first in the town centre with our Car Free Day. It was an opportunity for local people to take positive action against climate change, enjoy our town centre and explore more sustainable travel options. Changing people's behaviours is a key part of this and we will continue to engage with businesses and communities - with a particular focus on younger people.
"We cannot solve this on our own, everyone needs to play their part. We are working with our partners and the wider community for a more joined-up approach. We have been working with the University of Surrey's iSCAPE (Improving the Smart Control of Air Pollution in Europe), GCARE (Global Centre for Clean Air Research) and Living Lab projects to analyse air quality around the borough and use their world-class expertise to have a major impact here in Guildford.
The University has set up several regional groups to share research learnings and best practice with the local community. One such group is the Surrey Energy Partnership which was created to accelerate the transition to clean, fair and sustainable energy across Surrey and beyond. The University is also a founding member of the Surrey Climate Commission.
In 2021, the University of Surrey was ranked 61st out of 1115 Universities globally in the Times Higher Education Impact Rankings, which assess academic and operational performance against the United Nations Sustainable Development Goals.
Published on: 26 October 2021
Videos