Changes to Town Centre parking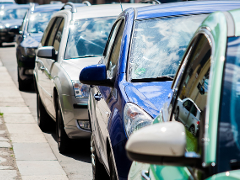 Town Centre residents will have their car parking spaces reserved seven days a week as part of changes to the town's Parking Zones from Monday 1 November.
The Guildford Joint Committee - a collaboration between Guildford Borough and Surrey County Councillors - agreed to the proposals made in the Guildford On-Street Parking Review in July 2020 and these changes will now be made as Coronavirus (Covid-19) restrictions have eased.
The time period for residential permit-only parking in Controlled Parking Zones A, B and D has also increased from 8.30am to 9pm each day.
The number of visitor 'scratch card' permits allocated to each permit holding household in these zones has been doubled to 60 per year, with the number of residents' permits issued in Zone D increased by 10% to 316.

Zone C, which covers the area between Clandon Road and Pewley Way, plus Waterden Road, are not included in these changes.
Lead Councillor for Environment, Cllr James Steel says: "As well as increasing the availability of spaces for our residents, these changes will make some of the busiest roads in the borough safer and less congested, and protect access routes for emergency services. These decisions also support our Climate Change and Air Quality strategies, in reducing congestion, journey times and pollution, which are especially important on bus routes and where large vehicles use narrow roads.
"Last month we held Car Free Day in our town centre, a day which put people first on our streets, revived our town centre and encouraged everyone to reduce congestion. It was a day of fun with informative activities in the spaces which would normally be reserved for traffic.
"We continue to encourage fewer car journeys into our town centre with our 'drive to and not through' Guildford ethos and offer a range of great value parking options to suit every need. We want to increase the use of our car parks on the edge of the town centre and our Park and Ride service. You can park for the whole day for as little as £1.90 at our Park and Ride sites.

"Improving air quality in the borough is one of our highest priorities and we are also working with Surrey County Council to provide alternative 'active travel' options through our programme to create new pedestrian and cycle lanes from the University of Surrey to the Royal Surrey County Hospital for rapid, reliable routes into town."
Where on-street charging currently applies Monday to Saturday 8.30am to 6pm, this will be extended to Monday to Sunday 8.30am to 9pm. The normal half-hourly rate will continue to apply in the parking bays within the majority of these roads. However, within six mainly non-residential roads, a £1 flat-fee charge will apply to the parking bays for an unlimited stay between 6pm and 9pm. These roads include the parking bays within non-pedestrianised section of the High Street, Chertsey Street, North Square, Quarry Street and Woodbridge Road, which are in Zone D of the town centre controlled parking zone. The RingGo parking app. is also being extended to on-street locations to make using these spaces easier. Parking on-streets will continue to be free and unlimited between 9pm and 8.30am.
The use of spaces within Zones A, B and D has been monitored and compared to data from before the Coronavirus (Covid-19) pandemic.
Published on: 29 October 2021
Videos