How we can all accelerate our fight against climate change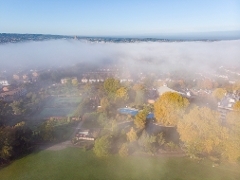 As COP 26 comes to an end, we are sharing ways we can all make a difference to make Guildford cleaner, greener and safer. Everyone has a part to play in making our lives have a less damaging impact on our world.
Councillor Joss Bigmore, Leader of the Council, said: "We need big and bold decisions at COP26, and then we need real action. But we can play our part on a local level, and in fact some of our work will have a bigger impact as we work with Surrey University's leading experts in air quality.
"As a borough council, we have opportunities to make what we do greener and to bring together local groups and individuals who are uniquely placed to make a difference. In 2019 we declared a climate emergency and published an action plan in July 2020. The net greenhouse gas emissions from our activities fell by over 21% between 2016-17 and 2019-20. The total fell from 10,998 tonnes in 2016-17 to 8,586 tonnes in 2019-20. We are committed to becoming a net-zero carbon borough by 2030 and we will continue to find more ways to reduce our impact on this previous planet.
"We all need to play our part too; at home, in our workplaces and when we are out and about."
Councillor John Redpath, Lead Cllr for Economy, said: "One of the easiest things I have done to reduce my single use plastic is to make simple switches of three things I use daily. I now use a no cartridge fountain pen, buy milk in glass bottles and drink water from the tap, instead of buying bottled water. Although not the most convenient to begin with, these switches bring me joy and make a big difference over time. What are you doing to fight climate change?"
What are we doing?
installed solar panels on our buildings to increase our sustainable energy use
installing electric vehicle charging points throughout the town and in our car park
switched to 10 electric minibuses as part of our Dial-a-Ride community transport fleet, based in Park Barn
all our committee meetings are paperless
in September we had Car Free Day. It was a brilliant opportunity to so see how we can enjoy Guildford with less cars. 90% of residents who came along said they would like our town more pedestrianised
our development policies require new builds to need less energy, this is more important and will make more of a difference than having a small contribution to low carbon energy
we recycle 4,400 tonnes of food waste every year. We also recycle over 200 tonnes of textiles (a sector which accounts for 10% of global emissions every year) and 44 tonnes of small electrical items in the borough
our 700 hectares of parks and countryside space are managed for biodiversity of wildlife habitats and ecosystems, and use peat-free compost and recycled water to grow our flower baskets and troughs. We compost and reuse all green waste, which reduces greenhouse gas emissions. The solar-panelled water troughs at Wey Valley Meadows ensure water supply for grazing cattle and help to prevent erosion and contamination of the river bank
areas of Stoke Park, Compton Common and Merrow Downs are some of our most biodiverse habitats and act as carbon sinks, which absorb more carbon than they release
What are we working on with our partners?
water refills across the town with our Business Improvement District to help reduce single use plastic
the Uni of Surrey is providing world class research and is one of only three in the country with science based emissions target. We have been working with the university on three major streams of work. iSCAPE (Improving the Smart Control of Air Pollution in Europe), GCARE (Global Centre for Clean Air Research) and Living Lab. These projects analyse air quality around the borough and use their world-class expertise to have a major impact here in Guildford
we work with Surrey County Council and Stagecoach who have the biggest electric fleet in the South of England and outside of London all made by Alexander Dennis based in Guildford
partner with Guildford Environmental Forum to help shape the future of Guildford and make it a greener, more sustainable town by educating, cutting energy use, reducing ecological footprints, helping wildlife and tackling climate change
What can we all do to make a difference?
did you know that transport accounts for 26% of all greenhouse gases emitted in the UK? The best long-term solution to improve air quality is for everyone to work together to move to sustainable travel options including cleaner, low and zero-emission vehicles and opting to leave your car at home
food production is responsible for a quarter of all greenhouse gas emissions, contributing to global warming and a half of the carbon emissions that food creates comes from meat. Reduce food waste by planning and preparing your weekly menu, opt for fruit or veg in season, grow your own fruit and veg and choose a lower meat diet to help cut the carbon
food waste that is sent to landfill doesn't harmlessly breakdown. It has a big impact on the environment as it rots and releases methane. You can stop this by putting your food waste in your food waste caddy or compost it yourself
the average showerhead uses 12 litres of water per minute. Reduce the amount of water you use by having a quicker shower
less energy used means less emission of greenhouse gases. Check your insulation and light bulbs to make sure your home is energy efficient. You can turn your heating down, switch off your computer or TV rather than keeping them on standby when not in use, reduce your washing machine temperature to 30⁰C, switch your bulbs and increase your insulation to save money and energy. Action Surrey has lots of useful information and grants available for residents. Visit www.actionsurrey.org or call 0800 783 2503
Small changes can make a difference.
Published on: 10 November 2021
Videos