Consultation launched to help shape Guildford's future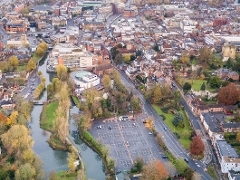 Residents and businesses across Guildford are invited to share their views on our plan to shape Guildford's town centre. The ten-week consultation is being launched on 8 December, with debates, workshops, town centre stalls and online events so everyone has an opportunity to make their views known.
The ambitious plan, Shaping Guildford's Future - a plan for our town, aims to breathe new life into the centre by opening-up the riverside, improving air quality, introducing more alternative, sustainable and affordable transport as well as making Guildford a more attractive and healthier place to live, work and visit.
Leader of the Council, Cllr Joss Bigmore said: "We have everything in Guildford: heritage, arts and culture, world class education, cutting-edge research and dynamic innovation. We also have our unique community spirit that makes Guildford what it is.
"However there is much we need to improve to make sure that we can grow but also protect what makes Guildford special. That is why we need a resilience and growth plan to make sure that Guildford continues to be competitive, attract inward investment and new business opportunities, and be a place that we will still enjoy living and working in.
"A sustainable and ambitious town centre masterplan will give us a strong vision, which will guide us so we can achieve so much more than piecemeal and un-coordinated development. We want to work with everyone, public sector partners, landowners, business, academia, local groups and residents to prepare a deliverable plan that will improve our town.
"We urge everyone who lives and works in Guildford take part in the consultation and tell us what you want the future of Guildford to be."
Lead Councillor for Regeneration, Cllr John Rigg said: "Shaping Guildford's Future - a plan for our town is the beginning of the journey. We want local people's views to help shape the plan before we get into the detail. This is our town after all and any plan to develop it needs to involve residents and businesses.
"The workshops, events, pop-up stalls and debates are focused on asking what you see as important. We also want your views on existing constraints such as flooding and transportation as we look to deliver riverside homes and new neighbourhoods for the future. With this information we hope to deliver an achievable and fundable plan.
"I am excited to hear the community's views. Wellbeing is central to our ambitions so we need to know what residents think is needed to make us a better place to work, rest and play."
A range of different events are being held between December and March including a series of debates covering themes relevant to Guildford's regeneration journey. The events will be online and independently chaired by broadcaster and Guildfordian Peter Gordon.
There will also be face-to-face workshops, pop-up town centre stalls, digital campaigns and a dedicated website, giving everyone an opportunity to ask questions and make their views known.
The first online webinar takes place on Tuesday 14 December at 6pm and looks at the challenges and opportunities for the town over the next 20 years. The panel for the debate includes Cllr Joss Bigmore, Leader of Guildford Borough Council, Alastair Atkinson, Chairman of Guildford Environmental Forum, Amanda Masters, CEO of Experience Guildford, and Grant Bourhill, CEO of Surrey Research Park.
To register for the event or find out more please visit Shaping Guildford's Future website or find us on Facebook, Twitter and Instagram @GuildfordBC.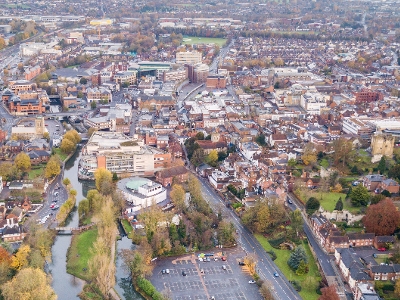 Image credit: @thisisguildford
Published on: 08 December 2021