New executive announced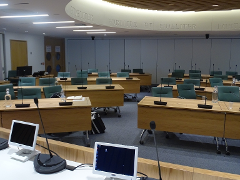 Councillor Cait Taylor began work this week as the new Lead Councillor for Climate Change. Within her portfolio she is also responsible for Air Quality, Innovation and Sustainable Transport. The announcement was one of the changes made to the Executive at the Full Council meeting on Tuesday 7 December by Deputy Leader of the Council, Cllr Julia McShane.
Councillor Joss Bigmore, Leader of Guildford Borough Council, said: "I am confident that the changes we have made to this Executive will benefit Guildford. It has given us the opportunity to look at where we are now and how we can better serve the people and businesses of Guildford.
"Last month Councillor Julia McShane stepped in at Deputy Leader of the Council, while continuing to be lead Councillor for Community and Housing. I have enjoyed working with her and seeing the care she has for our communities. She now adds human resources to her portfolio area.
"Councillor Cait Taylor was elected as Councillor to Friary & St Nicolas ward in May, filling the seat that Caroline Reeves left. They were big boots to fill but she has made a brilliant start, already being substituted onto several committees. Given the importance of the climate change portfolio we have taken our time and considered a number of options. We are excited about the contribution Cait will bring given her passion and dedication in this area.
"I have added Strategic Planning to my portfolio and other Executive Councillors will pick up aspects of Service Delivery to allow me to give the attention that planning strategy needs.
"I look forward to working with Cllr Taylor and Executive to continue our work to put the interests of our communities first. We are confident we will become a greener borough with a renewed, thriving economy, coming together to support our communities and most vulnerable residents."
Councillor Cait Taylor said: "I felt very privileged to be elected as the borough councillor for Friary & St Nicolas ward in Guildford, and now even more so to be able to take on this role and make a real difference for Guildford and our planet. I will be working hard to make sure that pollution is kept to a minimum and we can reach our 2030 carbon neutral target for the health of all residents."
We will update our website shortly to show the new Executive and portfolios.
Published on: 08 December 2021