A pesticide and herbicide free borough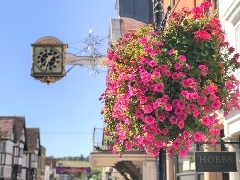 Councillors agreed to work towards making Guildford a pesticide and herbicide free borough at a Full Council Meeting on 7 December.
The proposals came after a petition by concerned residents, part of Guildford Environmental Forum together with the national campaign group Pesticide Action Network, requested the Council to make Guildford pesticide-free.
The Lead Councillor for Environment, Councillor James Steel, said: "I fully support stopping chemical use, including pesticides. The Council has been working toward this for many years and cares deeply for the environment and biodiversity. Now is an opportunity to review our strategy and make sure that we are doing the best we can to stop using chemicals unless absolutely necessary and that we have the right priorities.
"A revised strategy will include an action plan, covering assessment of alternative methods of working, communication, and working with partners on testing alternative approaches. In the meantime, the Executive will be invited in January to decide on the proposed chemical reduction measures, which include seeking to remove chemical use in playparks from July 2022 and adopt a new chemical, pesticide and fertiliser policy and action plan in six months' time. To be as effective as possible at eliminating chemical use we will work with Surrey County Council to develop the strategy, assess potential environmental impacts of alternatives and consult with other agencies like the Forestry Commission, the Plant Health Agency and Natural England.
"I have to thank our residents who started and signed the petition. This is what democracy looks like and I am proud to have played a small part in this."
Helen Harris, who leads the biodiversity group at Guildford Environmental Forum and co-led the petition effort with colleague Frances Rollin said: "We are so happy with this decision. Pesticide use is unjustifiable and outdated in the face of the ecological crisis we are facing. Pesticides are damaging both for nature and for human health; so many residents have expressed real concern about seeing them sprayed around our streets and green spaces.
"We are proud to now be counted amongst over 60 cities, towns and boroughs in the UK who have committed to phasing them out. It was great to see so many of our councillors speaking in support of going pesticide free. I would like to thank Pesticide Action Network for their help as well as each and every person who supported our petition! We look forward to working with our council to put this into practice."
The proposals were welcomed by councillors.
The detailed chemical action plan will be a public commitment to:
existing chemical reduction actions
exploring alternatives
communication
educating site users and managing expectations
establishing a working group involving partners including the Pesticide Action Network and the Guildford Environmental Forum to facilitate alternative approaches
collaborating on the phasing-out of pesticide use with Surrey County Council and Waverley Borough Council (who have already adopted a similar policy)
incorporating the Council's chemical action plan in all relevant contracts
Published on: 10 December 2021