Response to the Local Government Boundary Commission for England's draft recommendations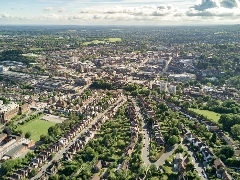 Full Council agreed to respond with two suggestions to the Boundary Commission's draft recommendations.
The Council has suggested that the name of the proposed new ward, which combines the Christchurch and Holy Trinity wards should be Castle ward. The Council has also suggested that the proposed boundary between the Onslow and Westborough wards, at their northern end, should be the A3 rather than the railway line.
Leader of the Council, Cllr Joss Bigmore, said:
"We were pleased that the Boundary Commission recommended ward patterns and names in line with most of our submission to the first consultation. We considered the draft proposals in detail and have made two recommendations for changes.
"The proposed ward boundary between the Westborough and Onslow wards would better be placed at the A3, rather than the railway, as it forms a significant and identifiable boundary and better reflects access routes.
"We also considered that the Boundary Commission's new Christchurch & Holy Trinity ward should have a shorter, more identifiable name and have recommended Castle ward, referring to the prominent and historic landmark in the new ward."
The response is part of the second consultation on ward boundaries. The first sought initial ward pattern proposals, while the second asked for responses to the Commission's draft ward boundary proposals.
The changes to our ward boundaries are to make sure councillors will represent around the same number of electors, and that ward arrangements will help the council work effectively. The new wards also have to recognise unique community identities.
Under the proposals, Guildford will keep the existing number of councillors, 48, representing 10 three-councillor wards, eight two-councillor wards and two single-councillor wards.
The Boundary Commission will publish its final recommendations on 3 May this year. The recommendations will be put before both Houses of Parliament. Once confirmed the recommendations will be implemented at the next borough council elections in May 2023.
Published on: 21 February 2022