Reducing anti-social behaviour in Guildford town centre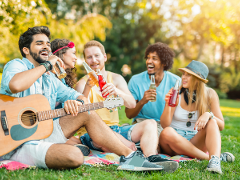 We are getting tough on anti-social behaviour. We have an updated Guildford town centre Public Space Protection Order (PSPO). The order gives police and some council officers power to tackle anti-social behaviour . This includes confiscating alcohol and legal highs. We can give fines up to £1,000 if you ignore warnings and breach the PSPO by causing anti-social behaviour.
Deputy Leader of the Council and Lead Councillor for Community and Housing, Cllr Julia McShane, said:
"It is important that our residents and visitors feel safe and can enjoy our beautiful town. That's why we have made changes to the PSPO. We have extended the town centre boundary to include the whole of Stoke Park. Also several adjacent roads and The Mount. We are tackling anti-social and nuisance behaviour to improve everyone's experience.
Our Safer Guildford Partnership means we tackle nuisance behaviour together with partners. We are putting up new signs across the town centre to make people aware of our PSPO."
The behaviours below are likely to cause anti-social behaviour. The PSPO means we can we can enforce against them:
Drinking or having alcohol in public. If the police or council officer asks you not to. 
Legal highs. Possessing, taking, selling or supplying legal highs in a public place
Rowdy and inconsiderate behaviour. Behaving in an anti-social way. Or encouraging others to behave in an anti-social way. That may likely to cause harassment, alarm or distress to others. 
The Safer Guildford Partnership includes key agencies as members. They all share information. This helps plan co-ordinated responses to prevent crime and anti-social behaviour.
Alick James, Guildford Borough Commander at Surrey Police, said: "The PSPO is a valuable tool to help us keep people safe. It addresses nuisance and anti-social behaviours. Our Specialist Neighbourhood Team work with the Safer Guildford Partnership. I encourage anyone witnessing or suffering anti-social behaviour to report it. Community intelligence is vital. It ensures we focus our activity to what causes the greatest harm to our communities."
Amanda Masters, Chief Executive of Experience Guildford, added:
'We support any work to help tackle anti-social behaviour in the town centre.'
For more information visit our Public Spaces Protection Order webpage.
Published on: 14 July 2022