Veterans' drop in: Welcoming ex-service personnel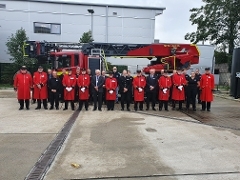 Guildford Fire Station is the lead station in Surrey to create a hub for ex-service blue light colleagues. The monthly sessions have been running since 2019, giving veterans their own space in the community to meet and access support. The Guildford hub has been such a success that there are now hubs at Fordbridge and Woking Fire stations.
The hubs offer a bacon roll, a coffee and somewhere to chat for those who have served. It's a safe and relaxed space to catch up with people who have shared experiences. Support is also available outside of the drop in dates through health and wellbeing gardens within the stations. Use of the Hub and the health and wellbeing gardens is completely free of charge.
Retired Station Commander from Guildford Fire Station (Creator of the first Hub at Guildford), Pat Sheridan said:
"We created these hubs so we can be sure there is support for our ex-service and retired blue light colleagues. We want to make sure we are reaching as many of them as we can and invite them to our drop in sessions. Support is available for any veteran who needs extra help. If we don't have the answer on the day we can signpost to services that do. We are asking our partners and communities to help share the message so everyone who needs to can come along. We can't wait to welcome you at our next event."
The Mayor of Guildford, Cllr Dennis Booth said:
"We want to share the message that these hubs are available. Supporting these hubs means we can support as many veterans in our communities as possible. If you have served, come along to a Hub to enjoy a cup of tea in the company of like-minded people. These are drop in sessions and there is no need to book. There is no limit on how many can attend each session - the more the merrier!"
The date of the next session at Guildford Fire Station is Thursday 27 October from 10.30am and 12.30pm.
Some other special dates for the Guildford Hub Diary are:
Remembrance Afternoon Tea followed by one minute silence and Last Post, Saturday 12 November at Guildford Fire Station 4-6pm
Hub open evening with a meal at Guildford Fire Station, Thursday 8 December 7-9pm.
Guildford Veteran's Hub address: Guildford Fire Station, By Pass, Ladymead, Guildford, GU1 1DL