Secretary of State clarifies decision on Bellfield Allotments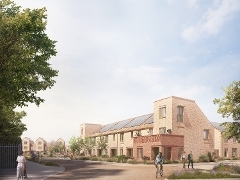 The Secretary of State for the Department for Levelling Up, Housing and Communities has supported our application to deregister part of Bellfield Allotments. This provides clarity to the area of land to be released for housing.
The Secretary of State's decision allows us to relocate allotment plots from Bellfields Road.
We have created new allotment plots at North Moors and added extra plots at the Aldershot Road allotment. The North Moors allotment site will include a meeting room, office, kitchen, and toilet facilities.
The Weyside Urban Village regeneration project will provide much needed housing, as well as new community and business facilities.
A total of 113 new plots across the two sites are now ready for occupation.
Lead Councillor for Regeneration, Cllr John Rigg said:
"We are working very hard to deliver Affordable Housing for our local community. This is despite the considerable economic and logistical challenges that we face.
"We welcome the decision by the Secretary of State and are pleased to resolve this matter. We can now progress with the project.
"The first phase of housing will consist of 81 new homes including 40% Affordable Homes. Many of these will be available to people on our Housing Register."
Published on: 10 November 2022