Remembrance Sunday in Guildford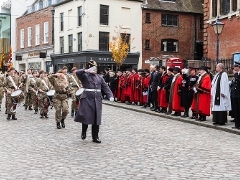 Hundreds of people lined Guildford High Street for Sunday's Remembrance parade and joined the service in the Castle grounds.
A Royal Marine stood with Sea Cadets, the Army Cadet Force and Air Training Corps outside the Guildhall. Two cadets from each service stood beneath Tunsgate Arch. There, the Mayor, Cllr Dennis Booth, and Col. (Retd) Patrick Crowley MBE DL laid flowers at the VC stones.
The Civic procession then made its way to Holy Trinity Church. Canon Robert Cotton received the standard bearers and conducted the short service. The Civic procession lined up outside for the military march past.
Drummer, Private Samuel Thomas, from the 3rd Battalion Princess of Wales's Royal Regiment, led the Surrey Army Cadet Force Corps of Drums. The parade included representatives from:
Women's Royal Army Corps Association
Queen's Regiment, Princess of Wales's Royal Regiment and Combined Veterans
National Malaya and Borneo Veterans' Association
Royal Air Force Association
War Widow's Association
Armed Forces Serving Personnel
Royal Marines
Sea Cadets
Army Cadet Force
Air Training Corps
Order of St George
St John Ambulance
Scouts, Explorers, Brownies, Guides
Rotary Club, Guildford Lions
Surrey Freemasons
Individuals laying a wreath on behalf of an organisation or relative
The Civic procession followed the military and uniformed organisations to the Castle grounds. The Guildford High School Brass Ensemble played incidental music as participants assembled. The ensuing service followed the traditional format. Canon Robert Cotton read the Exhortation and the bugler played the Last Post. Wreaths were laid at the Guildford War Memorial by dignitaries. The first wreath was laid by Col. (Retd) Patrick Crowley MBE DL and The Mayor, Cllr Dennis Booth. Brig. (Retd) Fiona Gardner CBE and the Deputy Mayor, Cllr Masuk Miah, laid the second wreath. Angela Richardson MP and the Joint Chief Executive, Tom Horwood laid the next.
The Mayor, Dennis Booth commented:
"Remembrance Sunday is always such a moving occasion. But this year, with conflict in Europe, it took on a new poignancy. It was also a delight to welcome so many of Women's Royal Army Corps Association, this year as it marks the 30th Anniversary of the disbandment of the Corps."
The service closed with the singing of the National Anthem. People stayed around to chat and share anecdotes in the warm sunshine. The small wooden crosses placed by the War Memorial caught the eye of people looking at the wreaths. Friends and families of the fallen had written names of people who had died in conflicts. In some cases, these included a black and white photograph. Yet another way to ensure we will remember them.