Support Guildford's submission for city status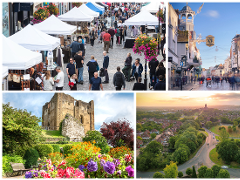 Show your support for Guildford's submission for city status.
Enter your details to #BackOurBid
Leader of the Council, Cllr Joss Bigmore said:
'In 2022, Her Majesty The Queen will be the first British monarch to have reached 70 years on the throne. The Platinum Jubilee celebrations will reflect on her reign and her impact on the UK and the world since 1952. As part of these celebrations, there is a civic honours competition for city status with a deadline of December 2021. Any local authority that considers its area deserves to be granted city status is able to enter.
I firmly believe that city status brings greater status and prestige on the national and international stage and can act as a catalyst for future success. It can also stimulate inward investment and new business opportunities which drives economic prosperity. It provides an opportunity to showcase, celebrate and gain recognition for local achievements and unique heritage, attractions, people and places and encourages tourism in an area.
Guildford is the county town for Surrey and is a centre for heritage, culture and sport. We have a world class university and excellent schools. Our vibrant local economy is home to many businesses at the forefront of cutting-edge technologies and is a significant contributor to the UK economy. I think our distinct historic and cultural identity, rich history and modern, outward looking focus would make our borough an excellent candidate for city status.
Our communities - of residents and businesses - have come together in extraordinary ways to support those most in need during the current pandemic. I believe that city status will further boost civic pride and create an even greater sense of collective ownership of our borough while celebrating our fantastic community spirit.
I will be asking Executive councillors to approve the submission of a bid for city status as part of the Queen's Platinum Jubilee. A key part of our submission is that we are able to demonstrate support from all sections of our community. As such, I am writing to many organisations and individuals across the borough and beyond and asking they please send me a letter endorsing our bid for Guildford to become the first city in Surrey, highlighting what they feel makes Guildford so special and deserving of city status.
At this early stage I also welcome any letters from any of our residents or businesses who would like to support our bid and once we have approval we have lots of fun, free plans to ask our brilliant communities to get more involved.'
Back Our Bid photo competition
We want to see what you love the most about Guildford.
Share your favourite picture of Guildford for a chance to win a G Live family ticket. It could be a majestic shot of the Cathedral or a hidden treasure, or perhaps your favourite spot in Guildford. Tag us in you chosen picture on Facebook, Twitter or Instagram and use #GuildfordCity. You can also email us your entry to commsteam@guildford.gov.uk.
We ask that you only tag photos of buildings, landscapes, street scenes, gardens, or other iconic spots in Guildford. Please do not include people in the photo as this may breach GDPR/Data protection laws. Guildford Borough Council cannot be held responsible for any image that is shared with people as the subject.
Our partners Experience Guildford manage the prize draw. We will not disclose any information to other organisations. Please see the competition terms and conditions below, and please read the Experience Guildford's privacy information and policy.
Terms and conditions
The competition will run from Friday 15 October - Tuesday 30 November. The prize draw will take the week after the competition closes. Winners will be chosen at random. Experience Guildford will contact the winner directly on the platform the submission was made. No alternative prizes will be offered. The judges' decision is final.
Videos