Car Free Day
Putting Guildford's pedestrians first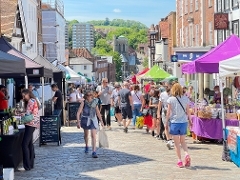 Be part of Guildford's celebration of Car Free Day on Sunday 26 September as we put pedestrians first in the town centre.
Information for residents and businesses affected by Car Free Day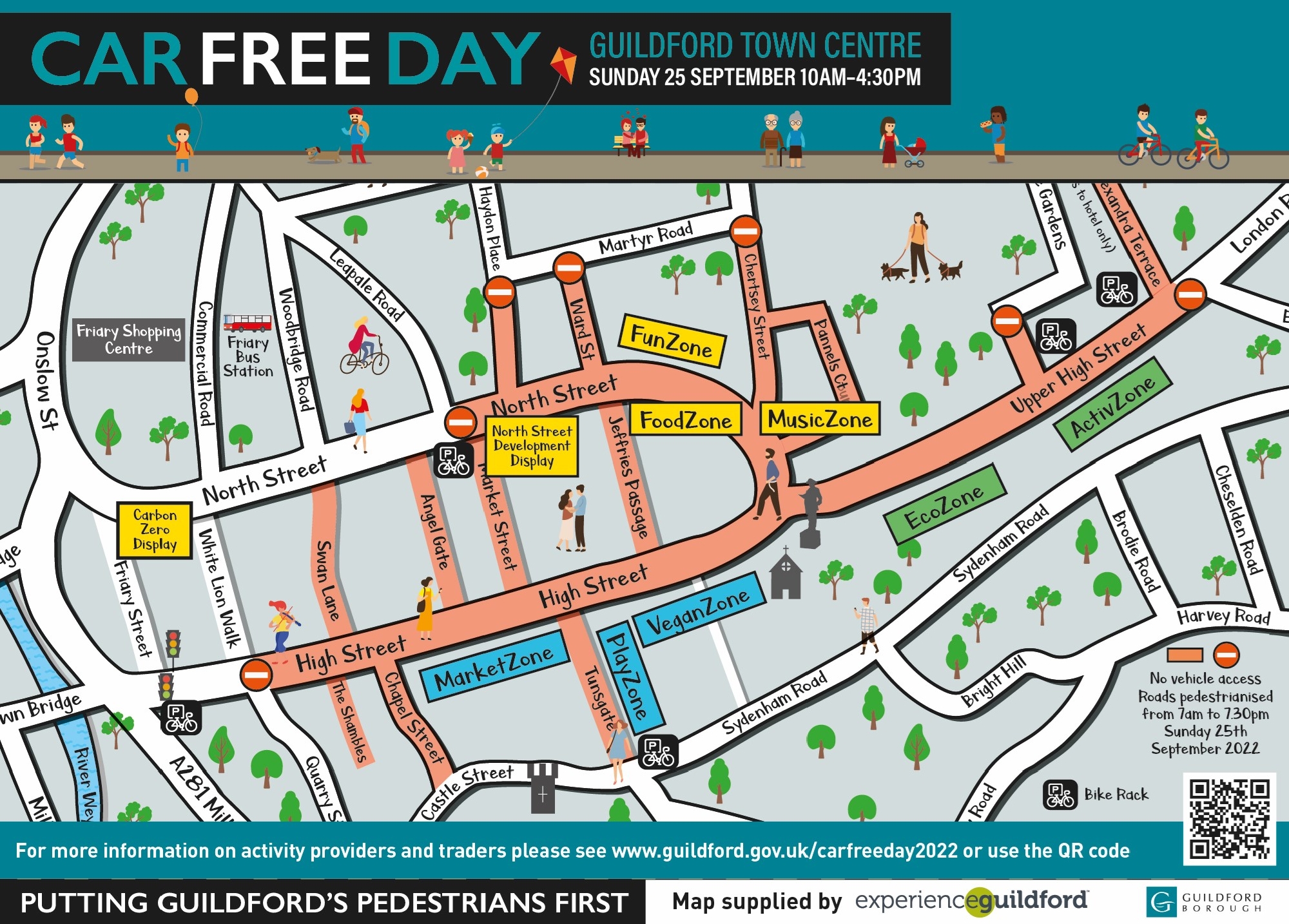 The town centre will be transformed, featuring market stalls from Ethical Vegan, Rural Crafts, antiques and our Farmer's Market. Other stalls offering street food, live music from local groups and street play for children. There will also be lots of information about how residents can step up their actions to tackle climate change. Leave your car at home and use alternative forms of transport, such as walking, cycling and public transport.
What's on
ethical vegan
rural crafts
antiques and brocante
farmer's market
street food
live music from local groups
information about how residents can step up their actions to tackle climate change
Car Free Day is part of how we are using the £140,000 Welcome Back Fund. The government scheme is providing councils across England with a share of £56 million from the European Regional Development Fund (ERDF). This is to support the safe return to high streets and help rebuild after the pandemic.
A more enjoyable experience is just a walk away in our town centre this Car Free Day.
How to get here
By foot - walk, run or dance. It's up to you
Cycle, scoot or skate - There are plenty of bike racks in and around the town. We will be providing 30 extra bicycle parking spaces until 5pm. If you don't have your own bike, hire a Brompton Bike from Guildford Station or hire an electric bike from Electric Bikes Guildford, Woodbridge Road.

Travel by bus - For Car Free Day, Safeguard Coaches will be offering free travel for accompanied children (aged 5-16) on its service from Park Barn, Southway and Woodbridge Hill to Guildford Town Centre. Routes 4 and 5 serve the Friary Bus Station in the heart of the Town. The maximum return fare for an adult is only £2.70, considerably less than what you'd pay to park. Use Route 5 to get into town and Route 4 to get back home.

Also for the day, Stagecoach will be offering the Guildford and Godalming DayRider ticket for £2.50. You can purchase this ticket on the bus, with cash or contactless.

Arriva also serves Guildford and the surrounding towns and villages. Bus timetables and information.

Travel by train - Guildford has two train stations, both only a short walk from the town centre. Frequent train services operate from Guildford Station to London Waterloo, with an average journey time of 35 minutes. Direct trains also run to a from other major hubs including Reading and Portsmouth. Visit National Rail for train times and routes.
Car Free Day survey
We value your feedback. If you attended the event please take part in our survey to be in with a chance to win one of three prizes including tickets to a family activity at Spectrum, two tickets for BBC Big Band: Frank & Ella on Saturday 29th January 2022 at G Live or a FitBit!
Complete the car free day survey
Videos