You are here:

Christmas lights switch-on
Christmas lights switch-on
Our fantastic Christmas lights switch-on event took place on Thursday 21 November and was sponsored by Experience Guildford and supported by 96.4 Eagle Radio.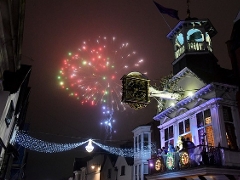 At our fabulous lights switch-on event, we kick-started Christmas with lots of festive fun and frolics.
There was music on the Experience Guildford stage at the top of the High Street, which was kindly programmed and presented by Guildford Fringe.
Eagle Radio's Peter Gordon hosted the balcony show from the Guildhall ahead of the switching on of the High Street Christmas lights. Afterwards, there was a spectacular fireworks display, courtesy of Experience Guildford, plus music on the Experience Guildford stage.
Take a look at a previous year's celebration with our short video.
Related pages
Translate
Twitter feed
Follow