Crowdfund your project in Guildford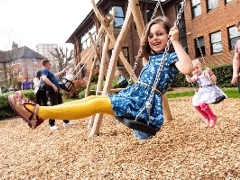 More than 40 members of the local community attended the launch of our new crowdfunding platform on Wednesday evening.
Crowdfund Guildford is a new community crowdfunding platform just for Guildford. It gives you the opportunity to pitch your idea, big or small, to get support and funding from local people and organisations who want to see your idea come to life.
Deputy Leader and Lead Councillor for Community, Cllr Julia McShane says: "Thank you to everyone who came along. It was fantastic to see so many members of our community come together with brilliant ideas to benefit our borough, and organisations began making connections in the breakout rooms. We heard about projects for young people, need for storage space, and were inspired by projects from other areas that were funded through crowdfunding. I can't wait to see what new projects come out of this.
"Crowdfund Guildford is all about helping turn ideas into reality. It's a brilliant way to put the power in people's hands and give everyone a way to help steer the future of their neighbourhood. It's all about collaboration, connection, and innovation, some of the brilliant things we have seen during the Coronavirus (COVID-19) pandemic, and we want to give space to for that to continue.
"And if you don't yet have an idea, keep an eye on Crowdfund Guildford. You never know what ideas might spark your own, or perhaps you will see something you would like to contribute to."
Leader of the Council, Cllr Joss Bigmore added: "Our investment in Crowdfund Guildford means that projects can more easily attract funding from businesses and foundations. Anyone can contribute, giving as little as £2 to help bring projects to life. You get a say in what you want to happen in Guildford and your local area.
"We will also provide up to £100,000 to help fund projects over the next two years. Up to £5,000, or 50% of the project target, is available to help each eligible project reach its funding target."
Spacehive, a leading crowdfunding platform, is our partner in creating Crowdfund Guildford. Fundraising campaigns on Spacehive have a fantastic success rate. The platform is used by many councils, companies and foundations to fund community projects.
If you couldn't make the launch you can watch the event recording and see the presentation used. If you have an idea for a local project come to one of our online workshops on Monday 6 December (12pm) or Wednesday 12 January 2022 (6pm). You will hear more about the funds available and receive specialist advice from the team at Spacehive. Submit your project to Crowdfund Guildford by Wednesday 9 February 2022.
Register for an online workshop
Published on: 15 October 2021
Videos