You are here:

Gallery Café
Our Heritage buildings (Guildford Castle, Guildford Museum, Guildford House Gallery, the Guildhall and the Undercroft) are currently closed.
Gallery Café
The Gallery Café can be found in the quiet rear courtyard at Guildford House. It is a tranquil setting for refreshments, among the specially designed ceramic pots and gardens.

The Gallery Café is open from Monday to Saturday, 9.30am to 4pm.
Contact the Café by calling 01483 454608, or emailing Gallerycafe2@gmail.com.
Lunchtimes
A range of delicious home-prepared hot and cold food is served in the café.
As well as special dishes of the day, you can enjoy:
Homemade soup of the day with crusty bread

Sandwiches or toasted ciabatta made to order

Quiché of the day

Jacket potatoes with a choice of filling, served with salad.
Shopping break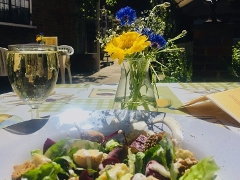 The Gallery Cafe is the perfect place to take the weight off your feet after a shopping morning in Guildford.
Come and enjoy our tasty treats, including a selection of cream teas, coffee, cakes and sandwiches.
And why not browse around the gallery afterwards, and enjoy the gallery's free admission to the exhibitions.
The Brew House
If you are considering hiring the Brew House for your meeting or training session, the Gallery Cafe can cater for your delegates, from teas and coffees, buffet lunches or sit-down meals.
Business lunches
Sandwich and buffet platters can be delivered to your office so you can work through lunch and meet that deadline.
Please contact the Gallery Cafe direct on 01483 454608 for more information.
Access
Access to our basement cafe is via the historic steps of Guildford House.
There is also a slope-down into the café and a raised threshold at the door into the garden seating area. Toilets are located on the same level. Please contact us in advance, so we can assist you as much as possible in preparation for your visit.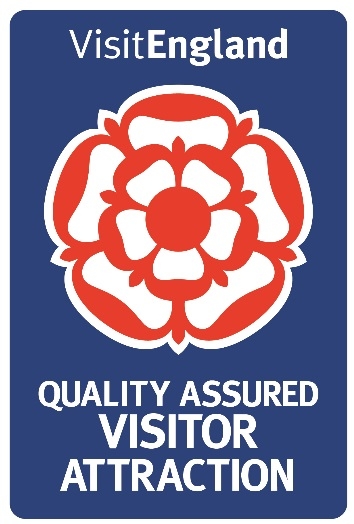 Related pages
Translate
Twitter feed
Follow
Contacts
About

Guildford House Gallery is open Monday to Saturday: 10am to 4.45pm. Sundays: 11am to 4pm (May to September).