Famous Edwardian Gardener, Gertrude Jekyll's boots return to Guildford Museum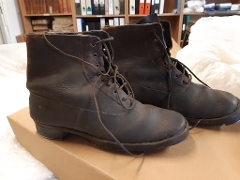 The boots worn by famous garden designer Gertrude Jekyll join the wider collection of traditional household items on display at Guildford Museum, which were donated by Jekyll in 1907.
Jekyll, who was born in 1843 and died in 1932, was one of the most influential garden designers of the time, creating more than 400 gardens in the UK, Europe, and the USA.
Cllr John Redpath, Lead Councillor for Economy said: "This collection of everyday items, including her boots, is now on display at Guildford Museum . The room setting is based on the Cottage Fireside, a chapter from Jekyll's book titled Old West Surrey. Visit the museum to see how our everyday household objects have changed. From brass skillets, rush-light holders to a mouse trap, there is plenty to marvel at."
The boots return to Guildford Museum, having been lent to Godalming Museum for more than 10 years.
It is believed that Jekyll wore the pair of men's boots for more than 20 years, commenting: "They say a horse does not like new shoes, I certainly don't like new boots."
In 1920 Sir William Nicholson painted a portrait of Jekyll which is now in the National Portrait Gallery, London. Miss Jekyll would only sit for her portrait in the late afternoon, so while he waited Nicholson painted a picture of her boots. The painting of the boots is now in the Tate Gallery, London.
In 1907, she donated objects from her collection of traditional household items to Surrey Archaeological Society, now in the museum. Jekyll collected items that she felt were important and epitomised the disappearing rural lifestyle.
In 1910, an extension to our museum was built to display the collection; as Jekyll was one of the leading ladies of the arts and crafts movement, alongside May Morris and Mary Seton Watts.
Watch our short video to find out more about the buildings that form Guildford Museum. The video was created with the help of our skilled volunteers.
Guildford Museum, on Quarry Street, is free to visit and open Wednesday until Saturday 12 - 4.30pm (last entry at 4pm).
Published on: 4 October 2021
Videos