Repair work to safeguard the future of two of Guildford's historic buildings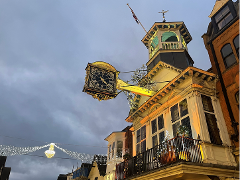 We will be starting repair work on The Guildhall and Guildford House Gallery, both on our High Street. The work will take around 12 weeks for Guildhall, starting late January, and 25 weeks for Guildford House Gallery, starting 4 January.
The repair work will focus on the back gable wall of Guildford House Gallery and outside structure of Guildhall, including the clock and bell tower.
Cllr John Redpath, Lead Councillor for Economy, said: "Both buildings are an important piece of Guildford's history and enjoyed by residents and visitors. This work will make sure that they continue to stand for future generations. The restorative work is needed. It will tackle the decay and deterioration of these buildings that happens over time, mainly because of the effects of weather, wear and tear.
"The work will be carried out with care and sympathy both to look after the buildings and those who will be visiting them. The scaffolding will be freestanding, so the buildings will not be put under any unnecessary strain. The scaffold will also be designed in such a way that will mean continued access along the High Street for pedestrians and cars."
Work on Guildford House Gallery will take around 25 weeks and be completed in June 2022. We will be putting up a temporary roof over the gable wall at the back of the gallery. Additional scaffolding will be placed on the neighbouring property to gain access to some areas and this has been agreed with a licence in place.
We will remove the tiles covering the back gable wall, inspect the timber frame and make any repairs. The tiles will be carefully placed back to their original position. During this work, Guildford House Gallery will be open.
Our Craft Shop and Tourist Information Centre will re-open after a short festive break in mid-January 2022. We will announce our gallery programme of events and exhibitions in the New Year. Please do check our festive opening hours on our website.
Work on the Guildhall, including the clock, will take around 12 weeks and be completed in March 2022. We will be putting up free-standing scaffolding that will reach the clock and bell tower. We will repair timber, windows, leadwork, and ironwork. We will redecorate previously painted surfaces. During this work, the Guildhall will continue to be used for civic functions and be available for hire.
Be the first to hear any updates on the works by following us on social media @GuildfordBC.
Published 23 December 2021