You are here:

Finds identification days
Finds identification days
If you have come across an interesting archaeological object while out walking or using a metal detector, bring your find to our Finds identification sessions, every second Saturday of the month, and find out more about it.
Finds identification sessions
Every second Saturday of the month

Time: 11am to 1pm

Free, drop-in sessions (if sessions are busy you may need to wait)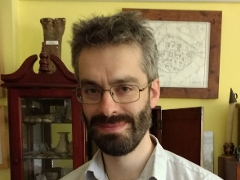 Perhaps that piece of metal could provide a clue to Guildford's past! Bring it along to Guildford Museum and our new Surrey Finds Liaison Officer, Simon Maslin (pictured) will take a look.

Simon will be based at the museum every second Saturday of the month from 11am to 1pm, to help identify your archaeological treasures.
Please bring along any items found locally. Simon will be looking at the importance of your find, its conversation and storage, and how it relates to the Treasure Act.
Related pages
Translate
Twitter feed
Follow
Links