You are here:

Commemorative plate
Commemorative plate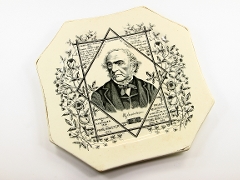 What was it used for? To commemorate Prime Minister William Gladstone
Where is it from? Ewhurst
When was it made? Between 1886 and 1892
How was it made? Transfer printed
What was it made from? Ceramic
Size: W240 mm
Museum number: LG.4547
This plate honours William Gladstone, one of Britain's most successful and popular politicians. The plate was probably made to mark his third term as prime minister. It was owned by an admirer of Gladstone, Eli Hamshire, a radical activist who lived in Ewhurst. Ironically, part of the imagery on the plate became associated with fascists.
Gladstone (1809-1898) started his career as a Tory MP in 1832. He moved to the Liberal party in 1859 and was Prime Minister for the first time in 1868. His governments reformed the justice system and the civil service. They also created a national elementary education programme. Gladstone backed home rule for Ireland but faced stiff opposition in Parliament for this. He served a total of 12 years as prime minister, with four terms in office and remains the oldest person to serve in this role, retiring at the age of 84.
Eli Hamshire (1834-1896) was a fan of Gladstone and his liberal and progressive policies. An active social reformer, he wrote a number of books. He bombarded politicians with his views on how best to fix society's ills. Hamshire wrote many letters to Gladstone on these issues.
Hamshire met Gladstone once at Holmbury St Mary, a village south-east of Guildford, in 1891. A report of this in the Pall Mall Gazette was not kind to Hamshire. It described him as a "character" and "enthusiastic rustic" who had "accosted" Gladstone. Hamshire always wore a smock, usually worn by rural workers. Smocks would have long been out of fashion by then. There is one of Hamshire's smocks in the collections at Guildford Museum.
The bundle of wood with the axe at the bottom of the plate is called a 'fasces lictoriae'. This was a symbol of power and authority in Ancient Rome and has been used by many politicians and governments ever since. In the 1930s it was particularly associated with the fascists. In Gladstone's day the image didn't have the same negative links.
Visit us
Guildford Museum
Castle Arch
Quarry Street
Guildford
GU1 3SX
Opening times
Monday to Saturday - 11am to 5pm
Free entry