You are here:

Ghuznee medal
Ghuznee medal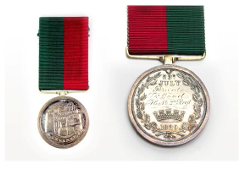 What was it used for? Military award
Where is it from? Surrey
When was it made? 1839
How was it made? Struck (stamped with a die)
What was it made from? Silver
Size: 37mm diameter
Museum number: G.8157
Every soldier who took part in the storming of the Fortress of Ghuznee was given this medal. The battle was in 1839 during the First Anglo-Afghan War. Our medal belonged to Private R Good. He was a soldier in the 2nd (The Queen's Royal) Regiment of Foot, based in Surrey.
The medals were produced at the government mint in Calcutta, modern day Kolkata, India. They were issued unnamed but fortunately this has been engraved after receipt so that we know the soldier's name. This was often added either as we see here or around the rim.
Russian influence had spread southwards in the 19th century. The British were worried they might move through Afghanistan and take over India. So, although the war was in Afghanistan, the real target was Russia.
The fortress at Ghuznee, modern day Ghazni, was a key target for the British, on the route to Kabul, capital of Afghanistan. It was well defended by Afghans but British and Indian troops blew up the main gate. Five hundred Afghans and 200 British and Indian soldiers died in hand to hand fighting.
The British went on to capture and occupy Kabul. There was strong local resistance so British and Indian forces left the city in January 1842. A total of 4,500 soldiers and 12,000 of their wives, children and servants set out for India. However en route they were ambushed and all but a few were either killed or died from exposure.
Visit us
Guildford Museum
Castle Arch
Quarry Street
Guildford
GU1 3SX
Opening times
Monday to Saturday - 11am to 5pm
Free entry