You are here:

Agricultural show catalogue
Agricultural show catalogue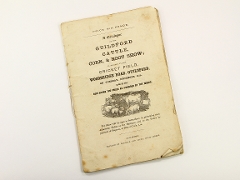 What was it used for? To list the different classes
Where is it from? Guildford
When was it made? 1858
How was it made? Printed
What was it made from? Paper
Size: L 213mm, W 134mm
Museum number: LG.1101
This catalogue lists the prizes awarded to farmers who showed their animals and produce at the Guildford Cattle, Corn and Root Show in December 1858. Agricultural shows like this one were a chance for farmers to carry out business as well as take part in the competition. It's hard to imagine Guildford Cricket Club allowing a cattle show on their field today.
There were a variety of classes at agricultural shows and the prizes could be impressive. The biggest prizes at this show were silver trophies valued at £5 5 shillings. That's worth around £250 at today's prices. Ordinary people, as well as farmers, liked to visit this kind of show and the general public were able to attend for the cost of 6d. The shows were also a chance for people to have some fun. The nearby Prince of Wales Inn served refreshments. In the evening, there was a dinner at the Angel Hotel with entertainment by 'professional singers'.
The show was held at the cricket field in Woodbridge Road on 14th December, when there would have been no matches for the winter. We know from weather records for Southampton that December 1858 was a particularly rainy month. The show must have been quite a muddy affair.
Visit us
Guildford Museum
Castle Arch
Quarry Street
Guildford
GU1 3SX
Opening times
Monday to Saturday - 11am to 5pm
Free entry