You are here:

Beer bottle label
Beer bottle label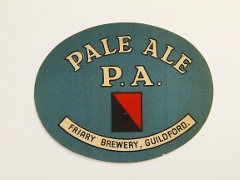 What was it used for? To identify a bottle
Where is it from? Guildford
When was it made? 1950s
How was it made? Printed
What was it made from? Paper
Size: L 121mm, W 95mm
Museum number: LG.2881
The Friary shopping centre in Guildford stands on the spot of a brewery with the same name. The brewery was itself named after the home of medieval friars (similar to monks). Friary Brewery operated for a century until the 1960s employing many people locally and further afield. When the brewery closed, it had a major impact on Guildford, both for the people employed and on the town centre landscape.
Thomas Taunton started the Friary Brewery in 1865. However, it was only after the Hoskins-Masters family gained control of the company in 1873 that it really expanded. The brewery stood on a site between Onslow Street and Commercial Road. Today the shopping mall, bus station and various other buildings occupy the site. The company employed many people across the country as well as in the brewery. At its height, the brewery owned 672 pubs and 150 off-licences across the UK.
The brewery was an important part of the local community. The company provided a sports and social club for its staff. The brewery brass band, which started in 1922, became famous through making regular appearances on BBC radio.
The brewery closed in 1969 when the company moved production to Romford. The old brewery buildings were demolished in the 1970s. The iconic tower - for so long a landmark of Guildford - was due to be demolished in secret. However, a first attempt to destroy it with explosives failed and on the next go thousands of people gathered to watch the tower finally totter and fall. Like the tower, the Friary Meux brand has now also disappeared.
Visit us
Guildford Museum
Castle Arch
Quarry Street
Guildford
GU1 3SX
Opening times
Monday to Saturday - 11am to 5pm
Free entry