Bee skep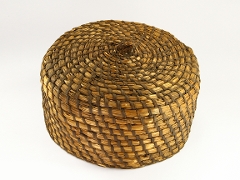 What was it used for?
To keep bees in
Where is it from?
Thursley, Surrey
When was it made?
Early 20th century
How was it made?
Woven
What was it made from?
Straw
Size:
H 127mm, Diameter 241mm
Museum number:
LG.1586
This skep from the rural village of Thursley is an early form of beehive. Woven from straw, they were cheaper and easier to make than the wooden hives we know today. However, extracting the honey from them was much more difficult and could have harmful consequences.
Humans have practiced apiculture (keeping bees for honey) for thousands of years. Skeps like this one are a very ancient design. They were the main type of artificial beehive in north western Europe. People from other cultures have made their hives from materials such as clay or mud.
People in ancient and medieval Europe prized honey as a source of sweetness. At the time, there was no access to crops such as sugar cane, nor the refined sugars that could be produced from them.
The modern wooden beehive developed in the 19th century. It had a number of advantages over more traditional designs that made it popular. Not least of these was that the beekeeper didn't have to harm or kill the bees to remove the honey.
Visit us
Guildford Museum
Castle Arch
Quarry Street
Guildford
GU1 3SX
Opening times
Monday to Saturday - 11am to 5pm
Free entry