Bible box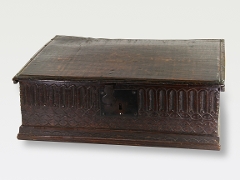 What was it used for? Storing bibles and other valuables
Where is it from? Provenance unknown
When was it made? 17th Century
How was it made? Carved, joined and hinged
What was it made from? Oak
Size: H 184mm at front, H 229mm at back, W 533mm, D 343mm
Museum number G.47
Bible boxes are wooden cases, thought to have been used to transport and keep Bibles safe. They were popular in the 17th and early 18th centuries when printed books were still expensive. A Bible was the only book that many families owned at this time. They looked after them very carefully.
We can imagine the head of the household opening the box on a Sunday, taking the bible out and reading a passage to the family. The sloping top acts as a rest for reading. Families also used the endpapers of the bible to record important events like births and deaths.
Bible boxes were probably used to store other family valuables such as money or jewellery. They only started to be called Bible boxes when people began collecting them as antiques in the 19th century.
Our box is carved with a repeating pattern along the front, although the design is not completely regular. The carving was probably by the local carpenter who made the box. The lock seems to have been replaced or added at some time. It overlaps the carving so perhaps the box did not have a lock originally.
Visit us
Guildford Museum
Castle Arch
Quarry Street
Guildford
GU1 3SX
Opening times
Monday to Saturday - 11am to 5pm
Free entry