Castor oil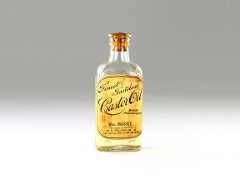 What was it used for? Medicinal laxative
Where is it from? Guildford
When was it made? Mid 20th century
How was it made? Pressed
What was it made from? Castor beans
Size: H113mm, W 45mm (bottle)
Museum number: LG.4167/35
This bottle of castor oil was sold at William Massey's chemist shop in Guildford. In the past, many children were given castor oil daily for its laxative effect. The oil was also used in products such as soaps, lubricants, paints and dyes. It has even been used as a punishment.
The makers of laxatives promoted a message that children's health could be damaged by slow bowel movements. They claimed, "Most children's ills are directly due to constipation". Our bottle is labelled "tasteless", suggesting it was meant for children who might have found the taste even less appealing than adults!
Castor oil has been used for thousands of years. In Ancient Egypt, the oil was used as a laxative and as lamp oil. It also formed a base for cosmetics and was rumoured to have been a key part of Cleopatra's make-up regimen.
The effects of castor oil meant that it could be used as a punishment as well as a medicine. Between 1922 and 1945 in fascist Italy, people opposed to Mussolini's regime were force-fed the oil, resulting in agonising diarrhoea.
Visit us
Guildford Museum
Castle Arch
Quarry Street
Guildford
GU1 3SX
Opening times
Monday to Saturday - 11am to 5pm
Free entry