You are here:

Chinese shoes
Chinese shoes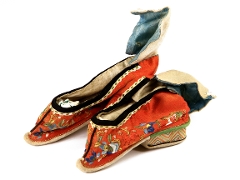 What was it used for?
Footwear
Where is it from?
China
When was it made?
About 1900
How was it made?
Panels of fabric sewn together and embroidered
What is it made from?
Satin, linen and metal thread
Size:
L 121mm, H 57mm (heel)
Museum Number:
NG.457.a-b
Chinese women traditionally made this type of tiny satin shoe to wear on bound feet. Foot binding was designed to stunt the growth of a woman's foot and was practised mainly by upper class women. At little more than 12cm long, these shoes would have been very uncomfortable for the wearer! How did these Chinese shoes end up in Guildford?
The maker of these shoes embroidered them with floral designs and zigzags on the heels. The black seam at the front of the shoes suggests that the maker probably made them from two pieces of material cut from a pattern and stitched together. The maker gently arched the sole of the shoes using a piece of cotton-covered wood, padding them for comfort. The oversized tabs at the back made the shoes easier to pull on.
Small feet were seen as attractive in some provinces of China. The feet of young girls were broken and bandaged tightly to ensure that they stayed as small as possible. Foot binding resulted in a deformed foot shape - a woman who'd had her feet broken would struggle to walk for the rest of her life. Small shoes meant that the wearer had high social status because only rich women who didn't need to work could have their feet bound. The practice of foot binding survived into the early twentieth century until the Chinese government banned it. The tiny shoes proved popular with tourists in the later part of the century - a Chinese woman probably sold these shoes to a European traveller who brought them to England.
Visit us
Guildford Museum
Castle Arch
Quarry Street
Guildford
GU1 3SX
Opening times
Monday to Saturday - 11am to 5pm
Free entry