You are here:

Dennis National Service Badge
Dennis National Service Badge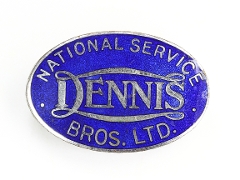 What was it used for? To show working for the war effort
Where is it from? Guildford
When was it made? 1914 - 18
How was it made? Pressed and enamelled.
What was it made from? Metal
Size: H 20mm, W29mm
Museum number: LG.4637
Badges like this were worn by men working in essential industries during World War I. People often tried to shame men not seen in uniform by giving them a white feather. This caused embarrassment for industrial workers like those of Dennis Brothers in Guildford. The badge showed that they were working for the war effort.
Brothers John and Raymond Dennis founded Dennis Brothers in 1901. The Guildford based company produced cars and motorcycles. They concentrated on commercial vehicles from 1913, making fire engines and buses. During both world wars, everything made was for the war effort. Dennis supplied the war office with 7,000 lorries in World War I. For World War II they made Churchill tanks, employing around 3,000 people.
The brothers started building cars in Onslow Street (today's Rodboro Buildings). Dennis Brothers outgrew this factory and moved to land at Woodbridge. By the 1970s the company was worth over £3million and received the Queen's Award for Export. In the 1980s the firm relocated to Slyfield Industrial Estate. The name lives on as Alexander Dennis Limited, the UK's largest bus and coach maker.
Visit us
Guildford Museum
Castle Arch
Quarry Street
Guildford
GU1 3SX
Opening Times
Monday to Saturday - 11am to 5pm
Free entry